Canberra facing a 'blustery' first week of Spring, despite some sunshine on Saturday
Despite a brief reprieve from the wintry months this week, Canberra's first week of spring is looking blustery and cloudy, as is much of south-eastern Australia.
The Bureau of Meteorology's Spring Outlook showed across the south eastern corner continent, conditions would be marked by cold morning frosts, windy and rainy conditions, particularly in Canberra.

"After a chilly morning with inland frosts, the southeast of the country can expect a settled first day of spring with plenty of sunshine and light winds. Temperatures will struggle though with south eastern capitals only reaching 16-18 °C," senior forecaster Scott Williams said.

"The first few days of spring will bring changeable weather across the south as a cold front moves across South Australia Saturday then Victoria, Tasmania and southern New South Wales on Sunday," he said.

After a relatively dry and warm winter, Canberra is facing a partly cloudy Saturday before the weather turns to daily showers from Sunday through to next Thursday.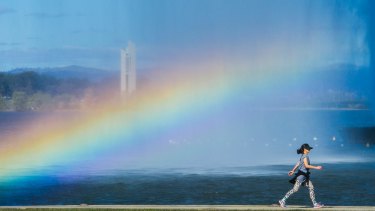 That rain may help suppress the city's pollen count during the first week of Spring, but Canberrans with asthma will now have an extra tool in their pocket to help deal with hay fever symptoms.
On Thursday, the territory government launched the new free Air Rater app, an ACT version of a similar smartphone application that has operated in Tasmania for two years.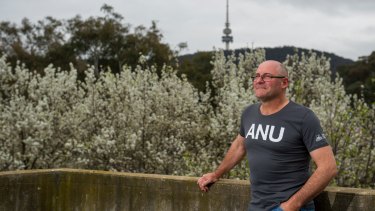 It builds on the Canberra Pollen count's monitoring program and Bureau of Meteorology station data in the territory, and lets users upload their own data on symptoms experienced to help identify environmental factors that may impact their hay fever.
ANU natural history Professor Simon Haberle, part of the Canberra Pollen count team, said the new program was also designed to monitor people's symptoms and compare it with local air quality in Canberra.
Prof Haberle said while it had been a dry winter, which usually led to a more "average" year for pollen, there was still three or four days of "extreme pollen conditions" each year in the capital, usually in late October or early November.
He said there was alo more awareness in the community this year or the rare "thunderstorm asthma" events, such as the one in Melbourne last year, and people should take extra precautions on a high pollen count day, when it coincides with a major thunderstorm.
"It's an extremely rare event, but for asthmatics and even some people without a diagnosis, they can have quite a severe sudden reaction to thunderstorm asthma, and we know Canberra has the potential for these events to occur," he said.
Prof Haberle said people with asthma or those who get serious hay fever symptoms should see their doctor about it to consider ways to minimise their symptoms early in the season.
ACT Labor MLA Chris Steel said all Canberrans with asthma, or with loved ones with the condition, should download the application to help manage their symptoms.