Canberra flocks to IKEA's opening day at Majura Park
If you're heading out now, try your luck in the Ikea carpark - there seems to be people on their way out. Otherwise, there is a free loop shuttle bus from the Majura Park shopping centre carpark. There's lots of helpful Ikea staff in the carpark who can direct you.
It seems there are some workplaces missing people today. Quite a few people admitted they had taken a sick day today - we won't reveal their names.
Ikea staff have been told to expect more quick visits in lunch breaks to this store compared to other stores. This is because it only took 20 minutes for anyone in the ACT to reach Majura Park.
Store manager Mark Mitchinson​ said "well over" one million visitors to the store were expected in the first year.
The team also believes Canberrans tend to play games in their living rooms, perhaps because of the colder weather, and this will be reflected at the Canberra store as well.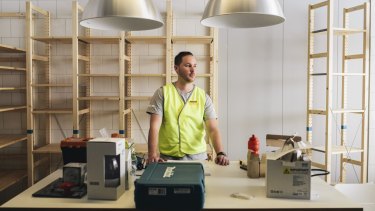 Earlier this year a pop-up exhibit filled with Byholma​ armchairs, Hektar​ pendant lamps and jars of Lingonberry​ jam has opened to give Canberrans a first taste of what to expect when IKEA hits the capital.

Store manager Mark Mitchinson​ said the company had held similar exhibitions in other parts of the world, but the ACT space was the first in Australia.

"We probably have not seen this excitement in our market before when we've opened a store in Australia for a long time.
<!--[if !supportLineBreakNewLine]-->
<!--[endif]-->