Canberra Gay and Lesbian Choir celebrates 25 years of singing out loud
The Canberra Gay and Lesbian Choir, affectionately known as Qwire (punning on queer and choir), is celebrating its 25th anniversary in 2018.
From small beginnings in January 1993, when it began with seven members - three women and four men rehearsing in a Dickson garage - it's grown into a large, diverse non-auditioned group of about 80 of various ages, sexual orientations, sex and gender identities, that performs a wide variety of vocal music from the Renaissance to rock.
Qwire's first musical director was Chris Ashcroft from 1993 to 1996. He was followed by Leanne Linmore who conducted it until 2009 and she was followed by Ken Teoh who led the Qwire until 2013. Then came Leonard Weiss who is handing over in 2018 to incoming musical director Dee McFaul. Jessica Stewart is the current accompanist.
About half the members of Qwire recently travelled to Munich, Germany, with Weiss to take part in the Various Voices Festival. Qwire is the only Australian choir attending of 100 choirs and 3000 singers. And Qwire is planning to host the Out and Loud LGBTIQ choral festival in Canberra in October 2019 for Australian and New Zealand choirs.
Founding musical director Ashcroft says a couple whose names he has forgotten placed an ad in a newspaper ("It might have been The Canberra Times or it might have been a gay paper") to form a gay and lesbian choir. Curiously, he says, the couple were not among the seven who turned up to the first meeting.
"I had recently come out as a gay man at the age of 44 and wasn't ready to do anything as public as a choir but singing was part of my history," he says.
Ashcroft was a member of a barbershop quartet and with his musical experience was asked to lead the new group.
"For fun we called ourselves the Dynamic Lifters."
Within a few weeks they were singing backing vocals for lesbian singer Judy Small at Tilleys, their first public appearance, and word soon spread.
"It went from seven to about 50 in what seemed like a couple of months."
Their early repertoire included Scottish folk songs and lampoons of Christmas carols, which they sang at Canberra gay club the Meridian Club at the end of the year. They also sang at the first National Folk Festival and despite a couple of negative incidents at performances, most of Ashcroft's memories are happy ones.
Ashcroft looks back on his Qwire years fondly but he says it could sometimes be "exhausting and stressful" as it was a lot of work - he was also employed full-time as a teacher.
When he and his partner moved to San Francisco and later Sydney to live he never again took on quite as much responsibility when singing in other gay choruses.
Still, he says of Qwire, "It was a wonderful thing to do, a wonderful thing to start, and it's bigger and better now."
Weiss, one of the busiest musicians in Canberra, who is conductor of the National Capital Orchestra and the Canberra Youth Orchestra among other activities, says among the highlights during his tenure with the Qwire were recording a live CD, In Full Swing, in 2015 of jazz standards and the 2016 concert Showtunes featuring classic musical theatre songs.
Other high spots, he says, were leading the Qwire outside Parliament House last year when the vote for marriage equality went through - "it was really exciting to be there" - and the 2014 Dublin trip to Various Voices and 2016 Auckland trip to Out and Loud.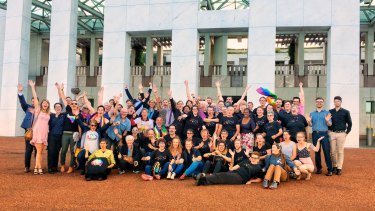 But, he says, "Change is good" and given how busy he is, he decided the trip to Munich and the 25th anniversary were a good time to hand over to a new director.
McFaul's first public performance as Qwire music director will be the AIDS Memorial Candlelight Service on May 20 with Greenaway's Stay Awhile and the standards Moon River and Stand By Me.
A school music director during the day, she moved to Canberra with her husband four years ago and applied for the Qwire job at the suggestion of her piano teacher, composer Sally Greenaway.
Sitting in on some rehearsals with Weiss and the singers, she was impressed not only by the singing but by the terrific sense of community present. She says that while she herself is "a terrible singer" she knows how to draw a good choral sound out of a group and wants to build on what's already been achieved while making Qwire a place where everyone feels welcome.
"The 25th anniversary concert is coming up in November and we're looking at the theme of Taking Flight," she says.
Among the artists and composers currently on the set list are Conchita, Katy Perry and Sia.
Having previously been a member of a women's choir, Susan Nicholls joined Qwire within a few weeks of it forming in 1993 and has been a member, on and off, since then.
She has opinions about all the music directors she worked with over the years: "Chris was a terrific musician and it was more about having fun," she says.
"Leanne was much more particular ... She brought a level of discipline that shocked us."
"Ken Teoh brought a whole new feel to the Qwire ... it included pop music, disco, a lot of choreography - he turned us into Glee."
This wasn't to her taste so she left the group for a couple of years, although she still went to the concerts.
When Weiss came on board, she returned, although she remembers thinking, "'Who is this child?' - he looked so young."
But any initial doubts were quickly dispelled.
"He was charming and had such a light touch and he was so clearly a brilliant musician."
As for incoming director Dee McFaul, she says, "I think she's going to be great ... I'm looking forward to singing under her baton."
Qwire's second semester begins on June 7 2018. New members are welcome in preparation for the concerts November 17 and18. More information: canberraqwire.org.au.