Canberra is getting rainbow number plates to celebrate marriage equality
Canberrans who want to show their support for marriage equality can now do so in a novel way - rainbow number plates.
Following the legalisation of same-sex marriage, the ACT government has announced it will bring into circulation number plates with a rainbow band instead of the traditional slogan.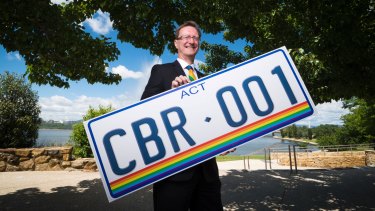 The colourful plates will cost a one-off fee of $60 and regulatory services minster Gordon Ramsay said he expected demand for them to be high.
The fee covers the cost of production of the plate, and unlike the rainbow buses and roundabout, Mr Ramsay said there would be no extra cost to the ACT taxpayer.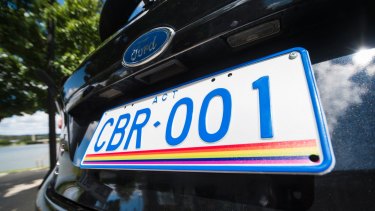 "The government has been supportive all the way through of people's rights," Mr Ramsay said.
"We're the most welcoming and inclusive city and I want to make sure we continue to be able affirm that and celebrate that."
Three in four Canberrans voted in favour of legalising same-sex marriage in the recent postal survey, an "emphatic" result Chief Minister Andrew Barr said gave the government licence to make Canberra more "inclusive".
Asked if the number plates could make cars a target given 26 per cent of the ACT voted against marriage equality, Mr Ramsay said he had "full confidence" Canberrans would respect the rights of others.
The rainbow plates will only be available in a standard size and you will not be able to personalise them.
People can apply to have their existing 'Y' series plates remade with the rainbow design, although it will take about four weeks.
The government also announced on Friday it will waive $55 certificate fee for couples married previously under the ACT's Marriage Equality (Same Sex) Act 2013 if they marry again.
Couples who previously registered a civil union under the Civil Union Act 2012 can also have their fee waived.
There are about 80 couples eligible in a move that is expected to cost the ACT government about $4400.
ACT Opposition leader Alistair Coe criticised the government's "grandstanding and expenditure of public resources".
"All Canberrans, regardless of their sexuality, deserve a government that concentrates on health, education and all the other actual responsibilities of the ACT government," Mr Coe said.
To apply for a rainbow number plate, visit an Access Canberra shopfront.
Katie Burgess is a reporter for the Canberra Times, covering ACT politics.