Canberra man arrested after tiny house stolen from Mitchell found in Queensland
The strange case of the tiny house stolen from Canberra appears to have been cracked overnight, as Queensland police located the home and arrested a 24-year-old ACT man in Hervey Bay.
The $20,000 prototype was stolen, along with its trailer, from a Mitchell business about 8:30pm on Sunday. Less than 24 hours later, it was spotted more than 1400 kilometres away in southern Queensland.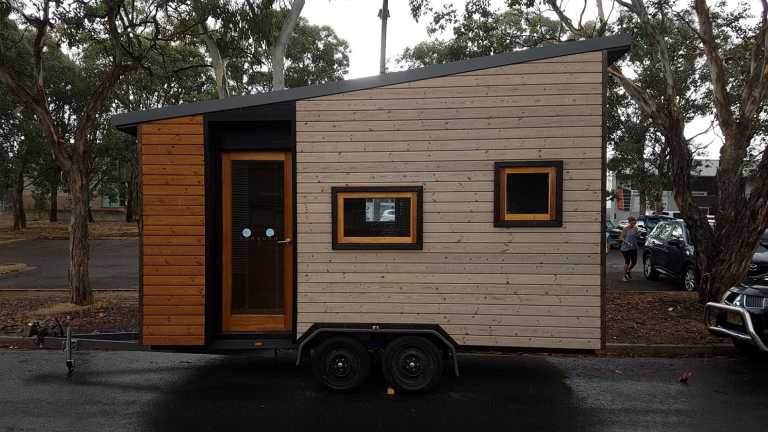 Owner Julie Bray said she was relieved to hear the home had been found "in one piece" and was eager to bring it back home to the capital.
A Queensland Police Service spokesman said officers made the arrest late on Wednesday night after receiving a tip-off from a member of the public who had spotted the tiny home.
News of its arrival in the northern state made it to Ms Bray after she took to social media to track it down.
"I'm a business owner turned private detective," she said. "At first I didn't believe it, but then someone else contacted me.
"It's absolutely remarkable."
Queensland police said they found the home in a yard in Hervey Bay and charged the man, from Latham, with bringing stolen goods into Queensland.
He was released on bail and will appear before the Hervey Bay Magistrates Court on October 5.
"He will be a person of interest to ACT police in relation to the actual stolen goods," a police spokesman said.
On Thursday, ACT Policing confirmed it would be following the investigation through.
"It's not every day a tiny house gets stolen," the spokesman said.
Ms Bray said she was still speaking to police about how best to bring the tiny home back to Canberra, but hadn't ruled out taking a road trip herself.
"It's not registered yet, but police told me [the thief] had replaced the licence plates with registered ones."
The home was set to be the centrepiece for Ms Bray's business, Smartdeck, at the Canberra Home and Leisure Show in October.
The business owner said she hoped to begin manufacturing the homes by the end of the year and her website had since been flooded with interest as her hunt to find the prototype home made headlines across Australia.
"I'm a bit overwhelmed, but it's been fantastic," she said. "If this had happened early next year, it would have been great promotion!
"I've never towed [the home] at speed before but it's showed it's up to it, I won't need an engineering certificate for it now!"
Ms Bray said five people, in particular, helped her track the home down by calling in their sightings and she was still considering how best to thank them.
"I'd like to send them all something," she said. "I'm pretty chuffed."
In the weeks before the theft, Ms Bray said smaller items, including a ladder, had been stolen from her business compound.
"They obviously had a plan," she said. "To get [to Queensland] that fast, they would have had to head straight out onto the Barton Highway."
"No other reports of thefts of 'tiny houses' have been reported," ACT Policing assured the public on Wednesday.
Sherryn Groch is a reporter for The Canberra Times, with a special interest in education and social affairs