Raiders Lime has been given the boot.
Two years after being reintroduced, Canberra Milk has stopped producing the unique-tasting lime green milk after lower than expected sales.
Raiders Lime was a notable absentee from the food stalls at Canberra Stadium for last Sunday's first home game of the season against the New Zealand Warriors.
There is a possibility the milk could rise from the dead with a change to a "sharper" spearmint flavour, but it would have to be in bottles, and not cartons.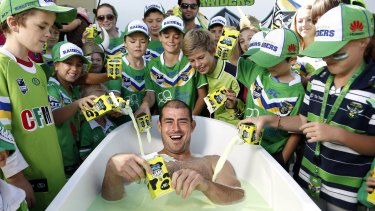 Canberra Milk managing director Garry Sykes said Raiders Lime didn't prove to be as successful as the company had expected.
"We've got no plans to reintroduce it," Mr Sykes said. "I know a lot of people support it and really want it, but we couldn't justify the cost.
"The sales weren't necessarily viable for the product.
"While we had a lot of support and I know it's a really preferred flavour for a lot of people, but unfortunately not the mass.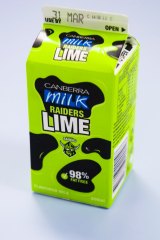 "From a production point of view, we needed a bigger uptake on it."
The low-key departure is in stark contrast to the hype surrounding the product's return for the 2013 season.
Raiders greats David Furner and Brad Clyde were involved in a television commercial along with current player Edrick Lee to promote the return of Raiders Lime.
Raiders Lime also featured in promotional material last year, with new coach Ricky Stuart taking a swig of the good stuff in front of the playing squad.
Former Raiders captain Terry Campese even bathed himself in a tub of Raiders Lime for a photo with .
Mr Sykes said the milk could make a comeback with a spearmint flavour he described as having a "sharper taste".
"We're working on it right now," Mr Sykes said.
"We've got our flavour people working on different formulations that we can test and it's in their court how quick they can get it to us.
"If it was in a bottle rather than a carton it would have been a whole lot better."
The product first rose to prominence in 1990 with a TV commercial featuring former captain Mal Meninga, his teammates and coach Tim Sheens sharing Raiders Lime in the change rooms.
Capitol Chilled Food, owner of Canberra Milk, stopped making flavoured milk in 1996, but began putting Canberra Milk Choc and Canberra Milk Choc-Malt Honey varieties on shelves in supermarkets, service stations and takeaway stores in early 2013.
The Raiders will have to go without their trademark lime green milk for Saturday's home match with the St George Illawarra Dragons.
Lee Gaskin is a sports reporter at The Canberra Times.