Canberra mum Amber Nichols eliminated from The Voice, plans to tour
Canberra's Amber Nichols said the most disappointing thing for her on Sunday night wasn't getting eliminated from The Voice, but not being able to sing her prepared song, Power of Love by Frankie Goes to Hollywood.
"That's probably the toughest thing about the whole competition ... going through that week, going through the mentoring, going through the sound checks and rehearsals and getting your song to a point where you're really excited to sing it and then not being able to," she said.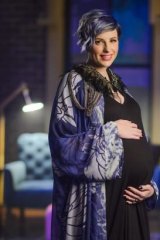 "Everyone keeps messaging me and going 'are you ok?' I'm fine. I'm just super grateful that I got to have that experience."
The mother-of-one's journey on the show was nearly cut short when she lost the battle round while she was coached by Madden brothers Joel and Benji, but was saved by British pop star Jessie J.
"Moving over to team Jessie was pretty amazing. She's just such a superstar but also a very down-to-earth person as well. So I've learnt a lot from her.
"I don't think I'll ever sing the same way again because of everything she's taught me, so I think getting to work with her was the highlight."
Heavily pregnant Nichols is due to give birth in the first week of September, and said she struggled with energy levels and breathlessness towards the end of the competition. But she doesn't think her daughter will arrive just yet.
"Everyone's like 'you're gonna go into labour now because all the pressure's off and you'll just relax and it'll happen'. I think she's still gonna stay put for a little while.
"I have an invite back for the grand final [in two weeks] so I kind of want her to stay in till then so I can go back and watch that show because I think it'll be really great."
Nichols said she would love to see Liam Maihi win.
"We spent so much time in the green room just waiting around and he would always have his guitar and he's such a beautiful singer and such a beautiful writer – his original songs are just stunning and he's just got such a beautiful tone and a really nice guy as well."
"But I think Nathan [Hawes] might have it in the bag. I think just that teenage demographic – all the girls they just love him so I think he's gonna be a hard one to beat. I think Ellie [Drennan]'s got a good chance as well."
And we certainly haven't seen the last of Nichols yet.
"I'm gonna take a year off with this baby and I've got some plans to do some more writing and releasing some more music and I want to do some shows just to thank everyone that voted for me and thank them for their support.
"I've got a lot of requests - come to Sydney come to Melbourne - so I'm gonna see how I can make that happen."