Canberra mum launches gender neutral kids fashion label
Each weekend, in a lounge room in Chisholm, a mother and daughter team sit together and draw brand new designs for their gender neutral clothing line.
Raising Riley is a new online fashion label launched by Canberra mum Maddison Noble and her four-year-old daughter Riley Freeman. The label offers "wardrobe staples" for kids, including t-shirts, long sleeve tees, baby onesies and bomber jackets.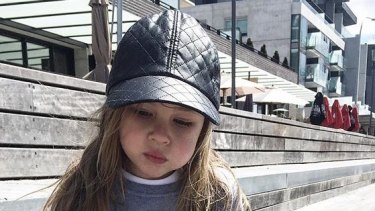 Maddison's kids range was inspired by the gender neutral trend in kids clothes in the United States, with the hallmarks of the label including minimalism, neutral colours and classic fabrics like denim and corduroy.
"I always found - especially when I was shopping for Riley - everything was so chaotic with kids clothes - sequins, colour and general busyness," Maddison said.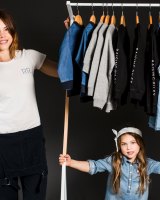 "I wanted to deliver something more basic, more versatile and simple so that you can get more use out of the clothes before kids grow out of them."
Maddison spent the past 12 months preparing to launch the label, including sourcing samples, developing a range of printable designs, designing packaging, and literally building the Raising Riley website from scratch using e-commerce platform ecwid.
In just eight weeks, the full-time public servant has built up a customer base across Australia and even has kids in the UK and the US wearing the label. Maddison said her cost efficient Instagram and Facebook marketing was driving people to the site.
"We still have some great winter clothing in stock so we're hoping to flip the traditional fashion cycle and have Americans wearing this winter what Aussie kids have just been wearing," she said.
Gender neutral clothing has been in the spotlight for a couple of years in the US after parents became frustrated with the "pink for the girls, blue for the boys" approach of global clothing chains and department stores. A wave of new kids fashion labels including Handsome in Pink and Girls Will Be surfaced in the US and inspired Maddison to launch a label that could be worn by all genders.
Canberra mum Jasmine Darcy, whose 15-year-old child is non-binary (meaning they identify with no gender) congratulated Maddison on her approach.
"As a parent, I think it's a great idea," Jasmine said.
"We put our children into boxes and that's when problems can arise."
Jasmine said clothing became an important part of her child's journey at about the age of 11, when they started to experiment with gender identity through what they wore.
"I'd love to see the 'neutral' taken out of gender neutral - lots of colour and funky styles," she said.
"A lot of young people working through gender also have serious mental health issues as well - and colour is definitely something that lifts them."
Bree Element is the life and entertainment editor at The Canberra Times