Canberra Museum and Gallery exhibition celebrates Wendy Saddington, the '60s rock music renegade who was ignored by the mainstream
Wendy Saddington was a key figure in Australian popular music history. By Julie Rickwood.
When artist Peter Maloney first saw Wendy Saddington perform in Canberra he was about 17. Totally captivated by the experience, he became a lifelong admirer and then a friend, and amassed an extensive personal archive of material relating to this iconic Australian performer. Although his obsession might not be replicated by other people aged in their late 50s and 60s, I'm sure the name Wendy Saddington still resonates with many of that generation, especially if they saw her perform live. Those mesmerising experiences are not easily forgotten.
Using material from Maloney's archive, Canberra Museum and Gallery's Mark Bayly has curated the Wendy Saddington: Underground Icon exhibition which runs until June 19. It follows the development of Saddington's career as a cult celebrity and a key figure in Australian popular music history.
Saddington was a pioneer in the rock music scene in the late 1960s. During the grip of the pop "scream scene" in Australia, Saddington was lead singer with Chain, one of the first local bands with a progressive outlook. Her music, looks and attitude reflected the underground Melbourne scene that was beginning to take off. After her death in 2013, music journalist Jen Jewel Brown said Saddington's trademark kohled eyes, pale, sombre lips and enormous Afro suited her wildcat purr and other-worldly rhythm-and-blues improvisations. On her small but powerful frame, singlets, vests, Levis and lashings of gypsy jewellery defied the "girly" look then expected of the tiny percentage of females who managed to fight their way into the spotlight.
During this era, Saddington was named "The Face of '68" by Go-Set, the Australian pop magazine of the 1960s and 1970s. The magazine described her as singing like a white Aretha Franklin; loud, raucous, soulful and gutsy. Before Chain, Saddington had fronted blues/psych band The Revolution and psych-pop band James Taylor Move. Popular music writer Iain McIntyre declared that she was so distinctive in her presentation and her music that she developed a cult following. She was at the cutting edge of alternative music making and possessed an amazing capacity to move from band to band, driven by a desire for professionalism to support her unique voice. On first hearing Saddington sing, Molly Meldrum said her voice was unbelievable and that to compare her with any other would be criminal. Canberra journalist Garry Raffaele wrote that "Miss Saddington" was by far the best female rhythm and blues singer in this country, describing her as an exciting, raging swinger. And when she performed at the East Coast Rock Festival in 1970, Go-Set journalist David Elfick had a great admiration for her. He said Saddington sang with a gutsiness that no other "chick singer" in Australia could even approach. There would be few singers from overseas that could match her, he declared, and everyone at the festival would come to recognise that Wendy was its star.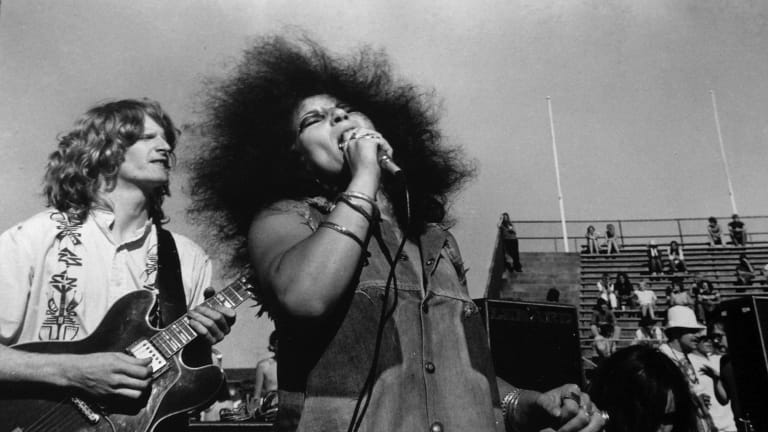 When Maloney first saw Saddington he too was transfixed, and went willingly on a journey into her cultural underground. She became an ongoing fascination for Maloney, and he became devoted to and her career, especially after the two met by chance in Sydney's Darlinghurst in the late 1980s when Maloney was resident there. By then, Maloney had lost virtually his entire circle of friends in the city to HIV-AIDs and the two artists developed a lasting friendship.
Maloney and Bayly have used a variety of objects and sources for the exhibition: photographs, posters, sound recordings, reviews, interviews, film clips, paintings, and personal memorabilia including postcards Maloney received from Saddington. The film clips play in a continuous loop, saturating the exhibition space with Saddington's unique voice and style. Other recorded material is accessed through headphones. In addition to Maloney's archival collection, the exhibition also includes works sourced from the ABC, the National Gallery of Australia, the National Library of Australia and a few elements from other private collections. They have produced a memorial that revisits her achievements as well as capturing personal moments and her connection with others.
Jeff St John was a frequent musical collaborator with Saddington. In his eulogy at the celebration of her life, he recalled happily sharing the stage with one of the most electrifying voices and personalities he had ever been graced to know. Her commitment to a song was total and absolute; her understanding and empathy for a lyric was second to none, and her performances touched souls.
Underground Icon is an engaging exhibition for those who want to visit for nostalgic reasons, but the exhibition should also capture a wider audience interested in Australian popular music history. The show highlights Saddington's outstanding talents and achievements during her professional music career, and also reveals her more "underground" music career, one which lasted much longer. Overall, it celebrates her authenticity, and makes only minor references to her spiritual life. The exhibition does not consider the perplexing notion of why she was not successful in the mainstream music industry. That story, however, can be gleaned through the reviews and interviews in the popular music magazines and by reflecting on the wider Australian popular music context in which Saddington was performing at the time.
The Underground Icon exhibition is the first exhibition dedicated solely to the career of one female Australian musician. There have been exhibitions at the Arts Centre Melbourne that featured women musicians, but Kylie Minogue: The Costume Collection was not about the music and Rock Chicks failed to include Saddington. Overall, the contributions of women to Australian popular music in the past have been poorly celebrated or documented. Underground Icon, therefore, is a significant contribution to not only maintaining Saddington's legacy in cultural history and collective memory but important to Australian popular music history. It is unlikely to be toured elsewhere so visit CMAG while you can.
Wendy Saddington: Underground Icon is showing at Canberra Museum and Gallery until June 19.
Morning & Afternoon Newsletter
Delivered Mon–Fri.