Canberra Nomads president Michael Clark arrested on assault charges
One of the highest ranking Nomads in Australia was arrested on Wednesday on charges of assault.
Lawyers for Michael Wayne Clark, 32, said the man heard police wanted to speak with him, so he took himself to City Police Station.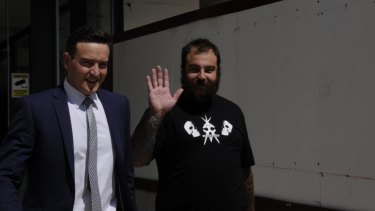 Once there, he was arrested and brought before the ACT Magistrates Court.
Mr Clark is the Canberra Nomads chapter president, and the sergeant at arms for the national group, police say.
Police say Mr Clark went to a Monash tattoo parlour on February 1 and bashed a man by punching him in the face.
It's also alleged he chased and assaulted another man.
Police say they have surveillance footage and audio of the alleged assaults.
A police informant told the court they had evidence in relation to another alleged assault on the same victim in September, but had not yet charged Mr Clark.
The Canberra man is charged with one count of common assault and one assault occasioning actual bodily harm.
Prosecutors opposed his release on bail, saying there was a risk he would reoffend and interfere with witnesses.
Chamil Wanigaratne, from the Director of Public Prosecution's office, said there were fears Mr Clark would use his influence as a high ranking member of the Nomads to get others to intimidate the witnesses.
But defence lawyer Tom Taylor told the court Mr Clark's influence would surely also exist in the Alexander Maconochie Centre.
He said there was a presumption in favour of bail on the charges before the court.
He said Mr Clark had a negligible criminal history, and the silver lining was that he was someone who had shown he could comply with court orders.
He acknowledged it was a strong prosecution case, but that even if Mr Clark was to plead guilty, a sentence of imprisonment was not the only possible outcome.
Mr Wanigaratne said he was pleased to hear the defence say it was a strong case, and was hopeful Mr Clark would "remember that when he comes to enter his pleas".
Special Magistrate Ken Cush said he would grant the man bail on strict conditions.
He noted that the police investigation was over, and that it was a strong prosecution case with surveillance footage and witnesses.
The conditions of Mr Clark's bail included not going near Monash shops, not contacting the alleged victims and not contacting the witnessess.
But Mr Cush declined a prosecution request to impose a condition that Mr Clark not contact other members of the Nomads.
The case is next due in court on February 28.
Alexandra Back is a reporter with The Canberra Times