Canberra paramotor pilot hits new heights in Australian-first flight
When Dr Peter Evans retired earlier than expected in 2015, the Canberra man says he "had a bit of a panic attack".
Three years on, the 62-year-old thinks retirement is "the best thing ever" after writing himself into history as part of the first ever paramotor flight from the lowest point in Australia to the country's highest peak.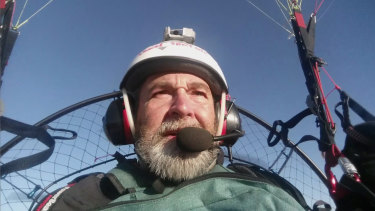 Dr Evans and five other pilots and instructors took off from 49 feet below sea level at Lake Eyre to start their expedition on May 21, flying on all but one day for two weeks as they made their way to the Mt Kosciuszko summit, 7310 feet above sea level.
Each of the pilots flew backpack motorised fan aircraft - paragliders combined with a small two-stroke engine that powers a propeller - as they ventured through Australia's harshest climates en route from the outback to the alps.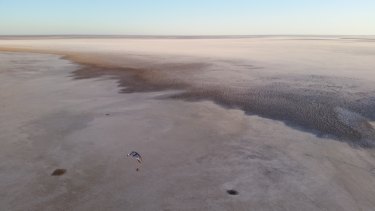 The group spent a total of 18 hours in the air, reaching ground speaks of up to 100 km/h and persevering through unexpected problems like turbulence and strong winds that briefly forced them out of the sky in the Flinders Rangers.
While Dr Evans had to land shy of the Mt Kosciuszko peak because of engine trouble on the final leg, he said he was still thrilled with his efforts and happy his fellow pilots got to experience the view from the top.
"We flew over some amazingly diverse land," Dr Evans said.
"Without doubt, the highlight for me was seeing the salt-encrusted shores of Lake Eyre, passing the Flinders Ranges and then seeing the agricultural land and the Snowy Mountains as we got closer to Kosciuszko."
The changing scenery also brought ever-changing conditions, with the group experiencing both extremes of Australia's harsh climate after crossing the outback en route to the alps.
"When we started, we typically wore a layer of thermals and various wind jackets," Dr Evans said.
"We'd doubled most of our clothing by the time we reached 'Kozzie', and some of us even had on a down jacket."
Dr Evans described the experience as an emotional rollercoaster, but he can't wait to do it all again.
Next year, he and his fellow pilots plan to fly along the Murray River.
Blake Foden is a reporter at the Sunday Canberra Times. He has worked as a journalist in Australia, New Zealand and the UK.