Canberra punters and fashionistas celebrate Melbourne Cup at Thoroughbred Park
More than 5000 fashionistas, lucky (or not so lucky) punters and beverage-loving racegoers flocked to Thoroughbred Park on Tuesday to celebrate the 2015 Melbourne Cup.
While some were squarely focused on the race that stops a nation, others turned their attention to the fashion stakes.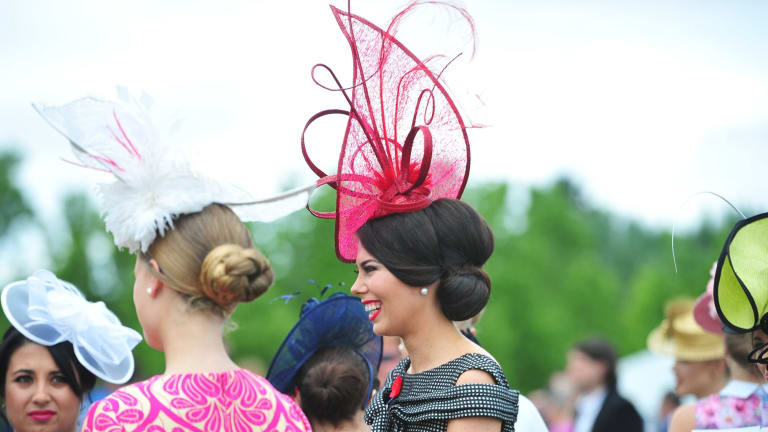 Female Fashions on the Field winner Brittney Tamou impressed judges with a navy blue, lacy number teamed with metallic gold accessories. She said her mother, a clever milliner, made all the decisions.
"She bought the dress from Myer - it's Self-Portrait - and made the hat. She is fantastic with fashion," she said.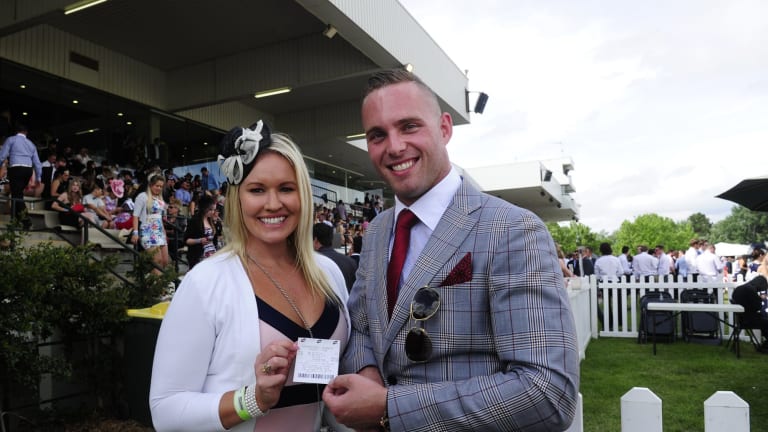 It's a double-win for the Tamou family this year: husband and Cowboys prop James Tamou claimed victory at last month's NRL grand final.
Weston's Chris Rankin proved the men could scrub up just as well as the women, also opting for navy blue. He picked his cream and red tie, matching pocket square and cuff links from his online men's accessories business, Christian James, matched them with a suit from Ministry Menswear over a grey vest from Connor at Canberra Outlet Centre and finished it with a wide-brimmed panama hat and red flower.
"I like to go for a bit of attention to detail, down to the waves in the pocket square, trying to match it with the eldredge tie knot. I feel like you can have a nice suit but the accessories really make it," he said.
Mix 106.3's Kristen Henry finds it harder to pick the winners every year.
"It's a beautiful unique twist, I think this year, on what is classic and what is expected but also on their personality," she said.
​, summed up the day's look as "fresh, bright and bold".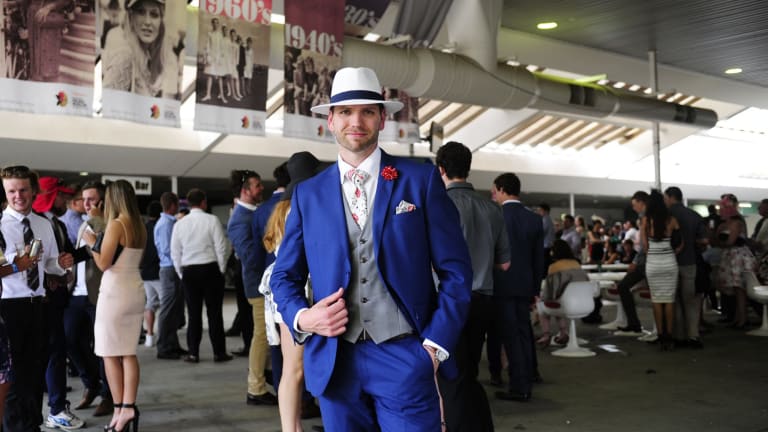 "I think a lot of the girls have nailed it in terms of colour," she said.
Ms Speldewinde said the season's edgier fashion had influenced many bold looks on the catwalk, including towering head pieces.
"They've tied that in really well with their outfits - with their heels, with their clutches - that full look which is what we're after," she said.
Not to be outdone, some suave men had also pulled out all stops.
"You can see the guys who have put in that effort and really looked for something that's a little more edgy and again, tried to add that colour into their outfits as well," she said.
Further afield the dress code at Thoroughbred Park was mixed.
While some adopted head-to-toe racewear glamour with full fervour, others were more relaxed with a petite jewelled headpiece or floppy hat.
More men's hats, ties and bows dotted the crowd than in previous years - with the odd exception of a pair of sneakers or shorts.
The crowd was slightly down from last year and was generally well behaved, operation commander station Sergent Adrian Craft said.
"We haven't had any reports of antisocial behaviour or anything like that," he said.
"There were around about 6000 people here last year and there were about 800 less today."
Its likely not many of these visitors, if any, beat Dan Posch's win of $24,000 from scoring the trifecta and also backing the top three horses. He decided on winner Prince Of Penzance at the last minute because his wife liked the name.
He wasn't the only Canberran to win the trifecta: Alex Finch and Jack Foster won over $6000 from their $70 bet.
"We got a tip off from my old man. He told us it would be the first female jockey to win the Melbourne Cup if she pulls through, and she did and made us very lucky boys," Mr Finch said.
Josh Leach from Florey won over $3000 from betting on the number one horse - that beat its 100 to 1 odds of winning - following guidance from his boss.
It seems the lucky charm at Thoroughbred Park on Tuesday was to follow someone else's advice.
Morning & Afternoon Newsletter
Delivered Mon–Fri.