Canberra retiree warns buying in NSW holiday parks fraught with danger
A Canberra retiree is warning others of the dangers of buying dwellings in NSW holiday parks, as he stares down the barrel of a near $40,000 loss.
Robin Turnbull and his wife Elizabeth paid $44,500 for their cabin at Tomaga River Holiday Park in Tomakin, on the NSW south coast, seven years ago.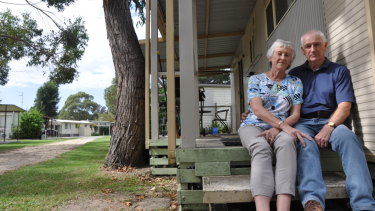 But their cabin is in a park zone now marked for redevelopment, and about 90 casual occupants will soon be forced to clear their sites if park owner Allswell Communities is given final approval to increase the number of permanent residential sites from 17 to 89.
Allswell Communities is offering affected tenants a $5000 goodwill compensation payment, and while Mr Turnbull acknowledged that the company was acting within the law, he called the proposed changes unfair and the compensation offer "grossly inadequate".
"There was no consultation with the residents and we stand to lose $40,000-odd in our case," Mr Turnbull said.
"Even if we were able to move [our cabin], which I've got my doubts about, it would cost more than $5000 and there's nowhere for it to go."
Mr Turnbull said he and fellow park tenant Ron Begg had formed a committee to fight the redevelopment, and had spoken with many affected tenants. These included families, who had told him they would probably have to walk away and lose significant amounts of money because the cost of moving their dwellings or renting a site elsewhere was too high.
Under NSW law, long-term casual occupants of a holiday park have the right to rent a site for 12 months, after which time the park owner can order them to vacate the site with a minimum of 90 days' notice.
Mr Turnbull said anyone who bought a dwelling in a NSW holiday park could easily find themselves in his situation.
"Little guys without any means to fight back are being bullied and steamrolled in this matter," Mr Turnbull said.
"There's no protection for vulnerable people under the NSW legislation.
"If you're thinking of buying something in a NSW holiday park, be very careful, because you're really exposed to owners being allowed to do whatever they want on a whim."
Allswell Communities director Nick Bonifant rejected claims the redevelopment was unfair.
Rather than answer questions from The Canberra Times, he emailed a statement saying there had been significant interest from people looking for affordable permanent accommodation in the area.
He rubbished Mr Turnbull's claims that the redevelopment plans were hidden until affected tenants were notified in a letter on March 7. From the point that the masterplanning process began in December last year, he said all new holiday occupancy tenants were given a disclosure agreement that referred to the plans.
"Our intentions to redevelop were not hidden. They were directly above the signature box," Mr Bonifant said.
Mr Bonifant said it was important to note that Allswell Communities was not only acting within the bounds of the law, but going beyond what it was required to do.
"The legislation does not require any compensation be made. It is a goodwill gesture to acknowledge the occupants having to relocate their vans," he said.
"To our knowledge, no one in the industry provides any financial compensation for holiday van owners having to remove their van."
Eurobodalla Shire Council, which granted the park's previous owners approval to redevelop in 1993, said it had no reason involve itself in the dispute.
"Council has no statutory power to require further public consultation or to delay development that is consistent with the development consent," the council said in a statement.
"While council is sympathetic to the concerns and impacts on tenants of the caravan park, council has no role or legal ability to involve itself in this matter.
"It is a matter between the tenants and owners of the park."
While the development approval from 1993 has not been activated until now and remains valid, Allswell Communities still needs permission under the NSW Local Government Act to install the new permanent residential dwellings.
The company lodged its redevelopment masterplan with Eurobodalla Shire Council on February 23. Should it be approved, the first stage of works would begin in July.
Blake Foden is a reporter at the Sunday Canberra Times. He has worked as a journalist in Australia, New Zealand and the UK.