Canberra rooftop energy company, Armada Solar, collapses
The collapse of one of the longest players in the ACT rooftop solar business has been blamed on the boom and bust cycle in solar power from an overly generous feed-in tariff in Canberra to a punitive federal attitude.
Armada Solar, which has installed more than 1000 arrays on rooftops since 2007, went into liquidation on Friday, with creditors owed an estimated $1.8 million, according to the liquidator. Twenty employees lost their jobs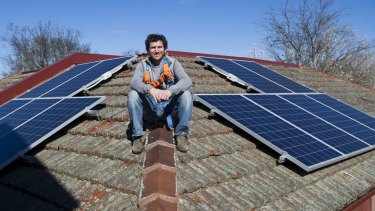 Owner Justin Ryan said his first aim was to help people who had signed up for solar panels with the work yet to be completed. He wouldn't say how many people were in that category, but Tony Lane, from liquidators Vincents, said there were a "substantial" number of names on the email list.
Mr Lane was still assessing the company's financial position and said it was too early to say what the liquidation meant for customers and creditors. He would convene a meeting of creditors in two to three weeks.
Mr Ryan said the collapse was the result of "1000 cuts".
He traced the start of the problems to the ACT's generous feed-in tariff for roof-top solar of 50.5 cents a kilowatt hour, which sparked a boom in the industry until it closed to new customers in 2011, creating an impossible environment in which to run a business. He had faced constant financial pressure for three years, not even drawing a salary.
New players had entered the market offering cheaper installations and solar companies were under pressure also from the big energy companies which, Mr Ryan said, were trying to slow down the uptake of solar. ActewAGL was his biggest competitor and had made it difficult, in the past four months especially, for customers to get solar systems connected to the grid.
The industry was incredibly competitive and price-driven, with no one making money, he said, suggesting that some companies were simply trying to maintain market share.
"I think that it is the most fascinating industry in the world right now in terms of the dynamic nature of it, but also there is a part of me which is relieved not to be in it any more," he said.
Mr Ryan also installs double-glazing and he is keen to salvage that part of his business. But first, he wanted to help people in the midst of installing panels.
"I want to continue to live and work in this community so I have to try and make an effort to help the people who have put money behind Armada and try to see if we can deliver on those projects," he said. "I'm not hiding from this."
Australian Solar Council chief executive John Grimes said the industry had been on a rollercoaster of policy changes for its history. While the ACT government had been supportive, the federal government was "waging a war" on renewables, resulting in confusion, with people unaware that a subsidy still existed to install rooftop solar.
While there would be a range of reasons for Armada's collapse, the political environment was unhelpful.
Energy companies were also making it difficult, fighting to limit competition and make it difficult for people to connect. And there was pressure in the industry to cut margins too far and install cheaper panels.
Mr Grimes said overly generous feed-in tariffs distorted the market, but the current "punitive" feed-in tariffs (ActewAGL offers 7.5¢) allowed power companies to make windfall gains at the expense of people who installed rooftop panels.
"We've had this swing from over high to too low and we need to bring it back," he said.
ActewAGL began offering solar installations a year ago. Solar Hub began in 2010, but was not feeling the same pressure as Armada, spokesman Benn Masters said.
While it had been a "topsy turvy" four or five years, business had grown over the past year, even since ActewAGL entered the market. His company had merged with its installer Solar Sparx and diversified into general electrical work, which had helped, he said.
Chief Minister Andrew Barr said it was very sad news, but Armada had had a good run for some time.
"There's still demand amongst householders for this technology but we've also got to realise there's been a massive take-up in the ACT already and the available supply of rooftops and households to sell to is diminishing each year, so it's one of those things that happens in business" he said.
ActewAGL retail manager Ayesha Razzaq said the solar market was tough, but she rejected any suggestion that the company was trying to hold up connections. The company's businesses were ring fenced so ActewAGL solar customers were in the same queue for connections as others.
"Are we trying to muscle out our competitors? Not at all. The industry's changing at a rapid pace and so are we," she said.
A connection usually took three to four weeks, but sometimes ActewAGL would find installations that weren't done correctly or safely, with wiring that needed replacing or other problems, pushing the job back in the queue.
Kirsten Lawson is news director at The Canberra Times