Canberra roundabouts are stressing cyclists
New research has found that Australian roundabouts are some of the most dangerous in the world for bikes; and Canberra's cyclists agree.
The data released on Thursday by the industry group Austroads found that multi-lane roundabouts - the intersection of choice in Canberra - are deterring cyclists from riding due to safety fears and stress.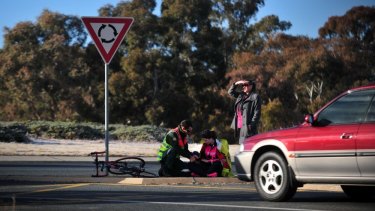 The report found Australian roundabouts are typically designed to maximise traffic flow, not safety. It recommended design changes to reduce driver speed and risk to cyclists. Proposed changes, largely modelled on European roundabouts, include creating tighter curves, reducing visibility to the right to encourage drivers to slow down and look more carefully, and directing cyclists to ''claim the lane'', not hug the gutter.

Canberra Cycling Club president Stuart Jones said another way to improve cyclist safety and encourage more people to ride was to reduce speed limits at busy roundabout intersections.
"The most dangerous roundabouts in Canberra are the larger ones where traffic moves at a quicker pace," he said.
"As a cyclist it can be very hard to build up a speed fast enough to be safe on the roundabout."
The research also recommended bike lanes and separate crossings be built, should reducing speed limit at roundabouts be considered impractical.
But Mr Jones said simply adding bicycle lanes at busy roundabouts was unlikely to solve the problem for cyclists.
"While some of the bike lanes in Canberra work really well, others at roundabouts create additional confusion and require cyclists to give way to motorists in situations where they would usually have right of way," he said.
Despite the abundance of roundabouts in the ACT, Mr Jones said cycling in Canberra was no more dangerous than in Melbourne or Sydney, considering the additional dangers they encounter.
"It's great riding here," he said.
"We have fairly quiet roads in comparison to Sydney and Melbourne along with good infrastructure and the support from the ACT government.
"It was great to see Minister Corbell introduce policy last week to protect vulnerable road users and create greater penalties for those who compromise the safety of cyclists."
Bicycle Network's chief executive Craig Richards said that 59 per cent of Australians want to ride bikes more often, but are concerned by the dangers posed by traffic and road conditions.
"The solution is simple – separated lanes and paths for bikes will overcome these concerns and get millions of Australians physically active," he said.