Canberra royal watcher keeps eye out for Queen's brooch
While most of the country has their eye on what the Duchess of Cambridge is wearing during her visit to Australia, one Canberran is keeping a keen eye out for a specific brooch.
Scott Coleman, of Waramanga, is a royal enthusiast and expert, with a particular interest in the royal jewellery.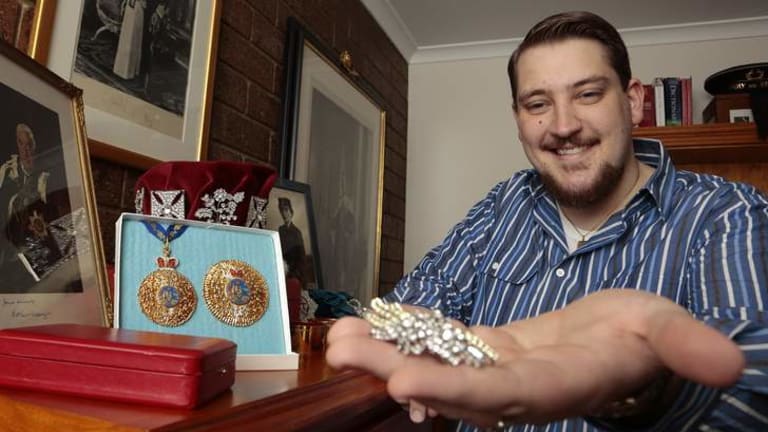 Much like royalty itself, Coleman's interest in jewellery comes from a long bloodline.
"My grandfather was a jeweller and he had an interest in the history and design of jewellery," he said.
"Also my great grandfather was a jeweller. It's been in the blood for a while."
Coleman speaks about the history of the royals with exquisite detail and flourish, despite the fact that his tender age of 24 means he wasn't alive for much of it.
His grandfather witnessed part of this history when the Queen first visited Australia.
"When he was in his teens, the Queen and Prince Phillip came to Australia for the first time of course in 1954 and he had an opportunity to see and meet the Queen," he said.
"He remembers her wearing the wattle brooch which was the Australian state gift to the Queen."
It is this brooch that Coleman expects the Queen would have loaned to the Duchess to wear during her visit.
"Her Majesty the Queen has lent her several jewels of significance before. When the Duke and Duchess went to Canada she lent her a diamond maple leaf brooch, and when she arrived in New Zealand she wore the silver fern brooch," he said.
"Her Majesty obviously lends to her which is a nice touch."
Coleman expects that the Duchess will wear the brooch in Canberra, most likely at a reception at Parliament House.
While he is yet to visit the homeland of the royal family himself, Coleman was able to meet the Queen when she last visited Australia in 2011.
"She's such an amazing woman, loved and respected worldwide," he said.
Coleman is hoping to have another brush with royalty when he attends a function at the National Portrait Gallery next Thursday, where he will donate a portrait by Sir William Dargie to mark the occasion.
He said he is impressed that the royal couple brought Prince George with them on their trip – a luxury that the Duke of Cambridge's own grandmother wasn't able to do only 60 years ago.
"I think it's a lovely gesture they're bringing their infant son with them – I think it's a sign of the modern world we live in," he said.
He's also very happy to have members from the royal family back on our shores.
"They've been a very important part pf history not only British but Australian as well and they obviously have great affection for this country," he said.
"They've been coming for over 60 years - we can't keep them away."