Canberra shelter hoping to offer homeless men more nights of accommodation
The co-ordinator of a Canberra shelter seeking to accommodate more homeless men for more nights this winter says their need for extra volunteers is dire.
As Safe Shelter prepares to open its doors on Tuesday night, co-ordinator Richard Griffiths said their mission this year was to see at least one emergency shelter open for homeless men in inner Canberra every night in winter.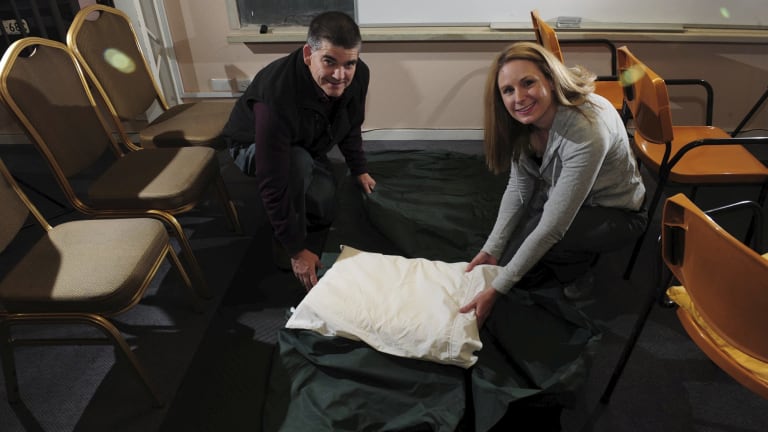 But without extra bodies to staff the shelter, many of the homeless people who flock to the city's heart will be left out in the cold.
"Civic is the place where they can get their evening meal at the Red Cross roadhouse in the Griffin Centre and they can get breakfast at the Early Morning Centre," Mr Griffiths said.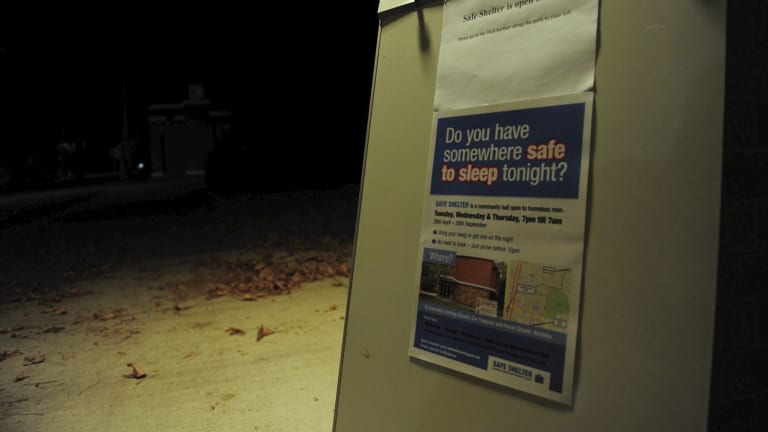 "A lot of the other support agencies are around there and at nighttime the St Vinnies night patrol comes around with coffee, Stasia Debrowski has her soup kitchen but there's no where for them to sleep."
Safe Shelter offers places for up to eight men to sleep in the warmth and security of the Lewis Hall of the St Columba's Uniting Church in Braddon every Tuesday, Wednesday and Thursday from the end of April to September.
But to set up more Safe Shelter venues for more nights requires extra funding and volunteers, Mr Griffiths said.
Each church hall used by the program needs to be fitted with a hardwire smoke detector and certified by a builder at a cost of about $12,000 per venue.
The All Saints Anglican Church in Ainslie has offered its church hall to be used but the program, which is not government funded, needs to find the money to fit it out.
Finding volunteers who are willing to forgo their mattresses and doonas for one night a month has also proved to be challenging.
There are more than 50 volunteers who give up their time to ensure the halls can open their doors on the coldest of Canberra nights, however Mr Griffiths said more are needed so they can expand the program from its current three nights per week.
The benefits of the program go beyond a dry place to kip and a warm mug of Milo by the telly.
Mr Griffiths said one man who linked in with their sister service in Queanbeyan last year was able to find long-term accommodation through the program.
There are benefits for the volunteers too.
Lyneham's Naomi Cole began volunteering with Safe Shelter last winter out of frustration at the lack of affordable housing in Canberra and helplessness for people sleeping rough on the streets.
"I stop and talk to homeless people quite a lot, and I feel it is really sad when people pretend they don't see a homeless person and walk past them," she said.
"They might have a spot where they usually sleep, but most of them are sleeping with one eye open because it's not safe."
She said she knew of one man with bad back problems who rarely got the warm bath that he desperately needed, and had been bashed numerous times while outside at night.
Volunteer Geoff Wellington, from Pearce, got involved through his Uniting Church networks, and enjoyed supporting people who had had a hard time.
"I think there are some people who arrive in Canberra expecting that there will be a lot here for them, when there's not," he said.
"People who come here don't necessarily understand how cold it is, and when you're homeless, it's not a nice place to be."
Mr Wellington said he had learned about the many life experiences beyond peoples' control that lead to homelessness, such as a relationship break-up or job loss.
For more information about how to donate or become a volunteer, email: safeshelteract@gmail.com.