Canberra stadium covered in green and gold as 19,000 fans witness Socceroos win
Aussie pride beamed throughout the Canberra Stadium on Thursday night as almost 19,500 people witnessed the Socceroos beat Kyrgyzstan 3-0.
The afternoon's wet weather luckily cleared as the match drew near, but traffic did the opposite. Social media was rife with complaints about traffic delays as crowds filed in slowly and queues were banked up at kick-off. Some people commented on an apparent shortage of staff checking bags at the entrance and too many instead selling tickets.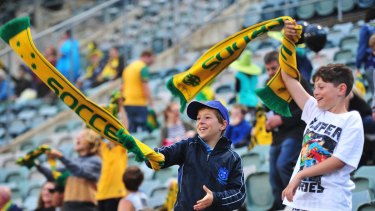 But inside the gates, energy was buzzing. Fans were covered in Australian tops, scarves, flags, caps, beanies, wigs, umbrellas, tinsel and face paint. People were dressed in anything and everything green-and-gold for the capital's first ever Soccer World Cup qualifier game... even if it meant wearing cricket clothing.
Lanyon high-school student David Gurney had won a juggling competition run by Socceroos legend Tim Cahill and won the chance to take the match ball out to the field.
, who scored in Thursday's game, was a favourite player among the crowd. Some reasons were because "he tends to win the game for us," Bruce Davies, of Queanbeyan, said. "He scores lots of headers," reckons 10-year-old Johnny Frilingos, and he had been inspirational to Yarralumla girl Rachel McNamara since she began playing soccer.
"I'm 18, and back in year four I followed him, so he's the one player I've known all these years," Ms McNamara said, while wearing sparkly face-paint and a yellow and gold outfit.
"I've always loved soccer and I've never seen them live, so as soon as I heard it on the radio I was like 'mum we have to get tickets' and here we are," she said.
Support for local product Tom Rogic was also strong, with Tavis Aitchison of Hackett stressing the importance of "getting behind the Canberra boys".
Not much screamed 'support' quite like his blue and white morph suit wrapped with an Australian flag and topped with matching yellow beanie and sun glasses. The attire was supposedly taken all the way to the last World Cup.
"Now I'm here to take us to Russia," Mr Aitchison said proudly.
Some supporters in the crowd had travelled from the South Coast or surrounding towns in NSW to watch the match. Many were Canberrans who had attended the Asian Cup games in January and were keen to see more Socceroos games in the capital.
"It would be good if we got our own A-League team, as well," Chris McKee of Weetangera said.
"We would go every week."
Clare Sibthorpe is a reporter for The Canberra Times