Canberra students to compete at RoboCup Junior national championships
Students from St Francis Xavier College are gearing up for a national soccer tournament, although none of them will be taking to the field.
They will be competing in the robot soccer division at the RoboCup Junior national championships held at the University of New South Wales next weekend.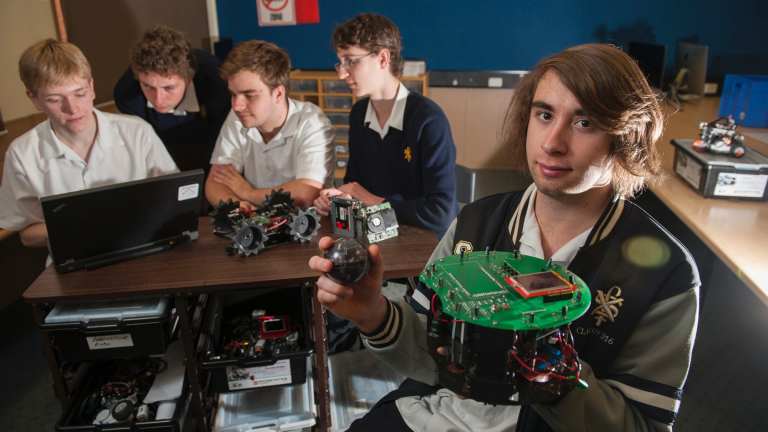 The students will be one of seven groups from schools across the ACT competing in the championships, with events ranging from robot dancing to rescue missions.
Year 12 student Robert Kaz has been working with robotics at school for four years, and said the competition can get fierce.
"Each team has two robots, one goalie and one attacker and there's an infra-red ball that they interact with," he said.
Rather than using a remote control, the robots use sensors to move around the field the size of a table-tennis table.
"We use sonar and light sensors that can detect what the field can look like," Robert said.
"We hope that we go really well, we've been putting in a lot of time with the robot but we have a long way to go in terms of coding."
The team from St Francis Xavier will hope to replicate their performance from last year, placing fourth and qualifying for the RoboCup Junior International event, which was held in China.
Gerard Elias, a teacher at St Francis and chair of RoboCup Junior Australia, said interest in robotics at the school has grown significantly since it was introduced in 2003.
With schools placing an emphasis on STEM (science, technology, engineering and maths) subjects, he said competing in these events was a way for students to expand their knowledge.
"It can expand the students' ability to see how all the subjects integrate together," he said.
"There have been some students who have been spending a whole year on their robots, so it can be used as a massive learning tool."
Year 11 student Riley Cockerill is also working on a robot with a team to compete in the rescue division, which involves navigating over a range of obstacles.
However, with there being no direct competition at the national event, the team has to submit a research paper about their creation in order to qualify for the international tournament.
"We've been working on the project for about two years now," he said. "Unfortunately there's no national level for what we do."
Despite the tough competition, Robert said there was always a friendly rivalry between teams at the nationals.
"It feels quite competitive but all the teams are really friendly," he said. "There's a really positive vibe throughout the competition."
Andrew Brown is a journalist at the Sunday Canberra Times. Andrew has worked at the Canberra Times since 2016.