Canberra Weekender - What's on in Canberra April 17-19
Your guide to what's going on around the capital this weekend.
Do you have an event? Email us at canberralife@canberratimes.com.au
New in cinemas this weekend
The Age of Adaline (M): After a car accident, 29 year-old Adaline Bowman (Blake Lively) finds she never ages, which makes life a challenge.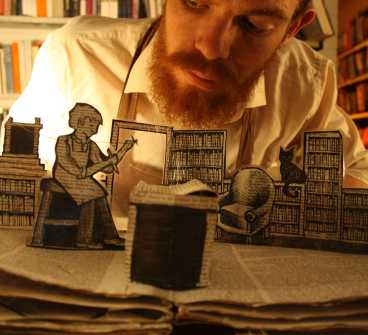 The Gunman (MA): A former assassin (Sean Penn) is hunted by mercenaries and seeks answers while trying to stay alive.
It Follows (MA): Jay (Maika Monroe) has sex with Hugh (Jake Weary) who passes on a sexually transmitted curse that can only be disposed of the same way he did.
Paul Blart: Mall Cop 2 (PG): Duty calls for mall cop Paul Blart (Kevin James) while he is on vacation in Las Vegas.
While We're Young (M): A middle-aged couple (Ben Stiller and Naomi Watts) find their lives changed when they befriend a young hipster couple (Adam Driver and Amanda Seyfried).
CANBERRA AND REGION HERITAGE FESTIVAL continues this weekend, with the 2015 theme of Conflict and Compassion. Celebrate the region's heritage with more than 100 events, most free, including tours, open days, dances, talks, dinners, markets and more. Until April 26. For more information, visit environment.act.gov.au.
HALL OPEN GARDEN Terroux garden in Hall will be open to the public on Saturday and Sunday. Featuring an eclectic mix of natives, ornamental trees, shrubs, annuals, perennials, bulbs and roses, plus a secret garden. Devonshire Tea available. 10am-3pm. Entry $8, under 18 free. 88 Rochford Road, Hall.
10.30am FROZEN TRIBUTE SHOW Your hosts Tweedledum and Tweedledee will take you on an action-packed, freezing trip to the dizzy heights of Arendelle, in this interactive Australian Frozen tribute show. Dress as your favourite character. Southern Cross Club, Woden. Tickets $17.99 from ticketek.com.au.
8pm LUCKY'S TURNS 1 QT Canberra's speakeasy Lucky's will celebrate its first birthday with a Carnivale-themed party. Expect a ringmaster, party tunes, contortionists, acrobats, magical acts, burlesque and clowns. Pre-show entertainment and drink specials from 5-8pm. Free entry.
8pm JORDIE LANE returns to Australia for his first national tour in 18 months. Performing with Clare Reynolds. The Street Theatre. Tickets $25 from thestreet.org.au.
8pm NANTES Sydney band Nantes are touring their new mini album, Limbo. Transit Bar. Tickets $15.30 from moshtix.com.au. 18+.
9am RECORD STORE DAY It's the day when record stores across Australia celebrate their existence with vinyl sales and other events. Participating Canberra stores are: Miranda Hi-Fi, 12 Petrie Plaza, Canberra; Wildwood, 4/27 Lonsdale St, Braddon; Songland Records, Cooleman Court, Weston Creek; Landspeed Records, 30 Garema Place,Canberra; and Lilitu's Books & Music, Ginninderra Village, Nicholls. For more information about events, visit recordstoreday.com.au.
From 9am BABY AND KIDS MARKET Stock up on second-hand furniture, prams, toys, clothes, books and more for babies and children at Exhibition Park in Canberra, Mitchell. 9am-12pm. Entry $4, kids free. For more information visit babykidsmarket.com.au.
10am FREE FITNESS SESSION Join the free outdoor community fitness session at Angas Street in Ainslie. 10-10.50am. Take your runners and a water bottle. Just turn up.
10am MT STROMLO AUTUMN TOURS Take a walking tour of the Mount Stromlo Observatory and learn about the history and science of one of Canberra's oldest sites. 10-11.30am. Free entry but bookings essential at eventbrite.com.au
11am BLUE RUN Scoot, cycle, run, walk, skate or blade around the 5km bridge-to-bridge circuit at Lake Burley Griffin and raise awareness for mental health. Start at Kings Park. Register at 11am. BBQ at 12.30pm. $5 entry per person. Profits from the day donated to Beyond Blue. For more information visit blueruncanberra.org.
12pm COMM.UNITY MARKETS The Canberra comm.unity Twilight Markets are back on at The Hangar in Fyshwick with more than 60 stalls, live entertainment and children's entertainment. Free parking and free entry. 12-5pm. 255 Canberra Ave, Fyshwick.
1pm DRAWING THE HUMAN WORKSHOP Experiment with drawing direct from a life model at the National Portrait Gallery. Put charcoal, pencil or pen to paper and be guided by Kristian Guenther from the gallery. Materials, tea and coffee supplied. Suitable for ages 9+. Adult $45/Concession $40. Bookings essential on 02 6102 7070 or bookings@npg.gov.au.
1pm THE RIDERLESS HORSE Folk duo Chloe and Jason Roweth will perform The Riderless Horse, an impression of World War I in Australian songs written at the time of the war. Admission free. Queanbeyan Museum, 10 Farrar Place, Queanbeyan.
1pm and 7pm THE BOOKBINDER Canberra Youth Theatre has teamed up with award-winning independent company Trick of the Light Theatre from New Zealand to bring The Bookbinder to Canberra for four shows. Inspired by the haunting works of Neil Gaiman and Joy Cowley, The Bookbinder weaves shadow-play, paper art, puppetry and music into an inventive solo performance for adventurous adults and curious children. Gorman Arts Centre, Braddon. Also on Friday at 1pm and 7pm. Tickets Adult $21/Concession $17 from cytc.net.
2pm WAR HORSE A free screening of the World War I movie War Horse (2011, PG) will be held at the National Portrait Gallery. No bookings required.
2pm ANZAC MOVIE MATINEE See Russell Crowe movie The Water Diviner at the Tuggeranong Seniors Centre in Greenway just in time for Anzac Day. Tickets $7 or $4 for members on 6293 4004 or tugg55plusclub@gmail.com.
2pm and 7.30pm GREAT EURO CIRCUS Head to Majura Park for the Great Euro Circus, featuring a human cannonball, the Globe of Death and the Freestyle Kings. Showing until April 26. Tickets from ticketdirect.com.au.
2pm and 7.30pm AS YOU LIKE IT One of Shakespeare's most beloved romantic comedies, As You Like It, is an adventure of the heart, and a tale of a love so grand all the rules are broken to win the heart of a boy. Until April 18 at Canberra Theatre. Tickets $35-$75 from canberratheatrecentre.com.au.
7.40pm BRUMBIES MATCH See the Brumbies play the Rebels at GIO Stadium. Kick off at 7.40pm. Tickets start at $11.21 from ticketek.com.au.
8pm EMPIRE STRIPS BACK The Empire Strips Back takes the classic characters from the beloved Star Wars film franchise, and drops them into the world of burlesque, Expect some seriously sexy stormtroopers, a dangerously seductive Boba Fett ... and more. Canberra Theatre. Tickets $60 (VIP package $120). Bookings at canberratheatrecentre.com.au.
8pm SOARING SOLOS Guitarist Khan Manuel – whose inspirations include Joe Satriani, Frank Gambale and Gary Moore – will perform at The Street Theatre, Childers Street, Civic. Tickets $20-$29 from thestreet.org.au.
8pm BOO SEEKA A hip-hop-psych-soul/dream-tronica duo that has been channelling a few musical spirits in the recording and writing process of the first single and EP, Kingdom Leader. Transit Bar. Tickets $13.30 from moshtix.com.au. 18+.
10pm AFRICAN BEATS To celebrate the 35th anniversary of Zimbabwe independence, the Durham in Kingston has local African act Zambezi playing African rhythm and beats. The band is on from 10pm till 1am. The Durham will also have some traditional African inspired menu items including a traditional African goat curry. Free entry. To book call 6295 1769.
10am ABORIGINAL ANZACS Aboriginal Anzacs are an often forgotten part of history. This event at Strathnairn Arts, 90 Stockdill Drive, Holt, will include a photographic exhibition of Ngunnawal Anzacs and an interpretive walk of the surrounding country, Gold coin donation. Bookings essential on 0488 389 509.
1pm MUSIC AND BUSHDANCE The Yarralumla Woolshed will ring to the sounds of musicians as the Monaro Folk Society celebrates 45 years. The kids can go to the Kids Bush Dance with the Tin Mugs from 1-2pm, followed by a mixture of singers, musicians and poets interspersed with join-in dance sessions of Irish, Contra and Australian Bushdance. Bring your own food, drinks and folding chair. Hot food also avaiable for purchase. Entry by gold coin donation. For more information visit mfs.org.au.
1.30pm HIGH COURT CONCERT To Heaven and Back on a Swing combines the talents of The Night Café, As Famous as the Moon and Andante Andante. They'll create soaring harmonies in the Great Hall of the High Court with classic jazz numbers, Cuban salsas, an Argentinian tango, French café tunes, songs from the Romany and Gypsy Swing traditions and the sweet harmonies of ABBA. Free entry but bookings essential at hcourt.gov.au/about/concerts.
3pm ANIMALS AND ARABIAN NIGHTS The National Capital Orchestra, conducted by Leonard Weiss, featuring pianists James Huntingford and Andrew Rumsey and narrator Peter Smith will perform Carnival of the Animals by Saint-Saëns as well as the Russian Sailor's Dance by Gliere and four Slavonic Dances by Dvorak. The concert will conclude with Rimsky-Korsakov's Scheherazade. Tickets Adult $30/Concession $25/Child and Student $15. The Queanbeyan Performing Arts Centre, 253 Crawford St Queanbeyan. Bookings at theq.net.au.
3pm TRIBUTE CONCERT A concert to celebrate and pay tribute to the co-founder of the ACT Lieder Society (renamed Art Song Canberra in 2006), Eleanor Houston, OAM, will be held in the Wesley Music Centre, 20 National Circuit, Forrest.The concert will feature Eleanor's past students, colleagues and friends, singing, playing and speaking about her life, career and influence. Admission $10 at the door.
4pm BATTLE OF THE BANDS Three of Canberra's best solo artists go head-to-head in this final for the solo battle of the bands competition at The Durham Castle Arms, Kingston. Free entry.