Canberra Zombie Walk raises money for Brain Foundation
Halloween celebrations had wrapped up for the year but that didn't deter the undead from swarming through Canberra's city centre on Saturday.
The Canberra Zombie Walk, now in its second year, saw hundreds limp and shuffle from Regatta Point to Garema Place – giving a dose of afternoon spooks to passers by.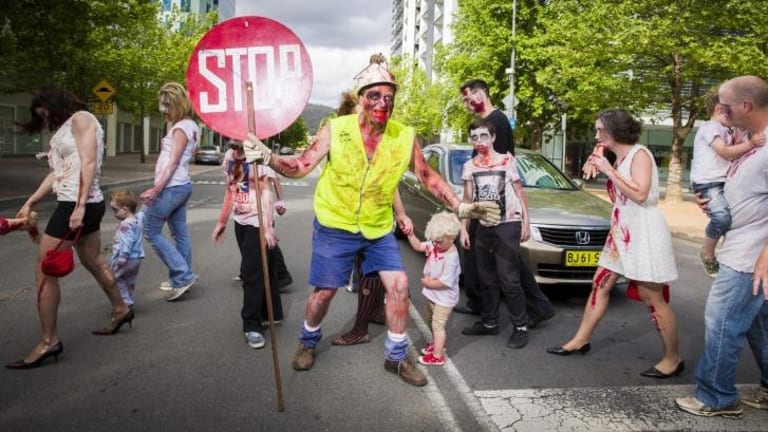 Paul McKie, dressed as a gory lollipop man, said he and partner Michelle Leonard had spent hours on their bloodthirsty get-ups.
"We started at 8am this morning and finished just before the walk at 3pm."
The 53-year-old said the fun was in the detail of dressing up.
"The brains seeping from my helmut we made using cocopops," he said. "There's a rat eating my brains and I can't stop theses flies from landing on my bloody nose."
This year was the couple's second time taking part in the walk.
Along with raising money for the Brain Foundation, Mr McKie said the traffic sign he carried had come in handy both years to ward away traffic as the participants made their way through the city.
Organiser Jae Burns said the free event was growing each year and rising awareness and much-needed money for the Brain Foundation to conduct research into neurological disorders, brain disease and injury.
"Keeping it a free event we thought would encourage people to get involved," she said. "We have a few people who are asking for gold coin donations from those that take part."
Many of the undead enjoyed The Zombie Invasion after-party at The Magpie Club, on Bunda Street, which featured a killer line-up of bands.

Georgina is a reporter for The Canberra Times
Morning & Afternoon Newsletter
Delivered Mon–Fri.