Canberra zoo opens new African-themed resort
A unique, new Canberra lodging gives guests the opportunity to sleep with the sharks, eat with the lions and even bathe with the bears.
Jamala Wildlife Lodge, the new development from National Zoo and Aquarium owners Richard and Maureen Tindale, opens on Friday.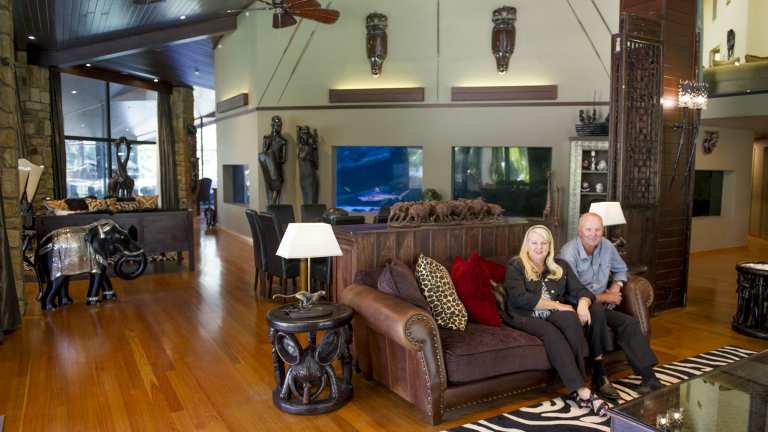 The 20 luxury rooms are scattered across the zoo, each with their own animal encounter and decorated with items handpicked by the Tindales on their annual trips to Africa.
The jungle bungalows sit in the lion, bear or cheetah enclosures, the giraffe treehouses offer the chance to hand-feed giraffes from the balcony, and the Ushaka Lodge houses up to 26 guests, is built around an aquarium and monkey enclosure, and has its own lounge and dining area, pool, plus access to feed the sharks.
At the heart of the project, Tindale said the lodge was part of a plan to educate the public on what they could do to help the animal world.
"The idea here is to try and get people immersed in the world of wildlife in a luxurious and fairly unique setting," he said.
"We found the closer we could get [people], the more we could get them to interact with animals, [and] the bigger impact it had on their outlook as to what they could do with wildlife."
The centre of the facilities, Ushaka Lodge, sits just above the public aquarium in what was previously the Tindale's house, and they now live in a new house on the other side of the property.
Accommodation starts at $400 and ranges up to $850 per person based on twin share, and includes afternoon tea, three-course dinner, drinks, overnight accommodation, breakfast, an early morning zoo tour to feed the animals, plus an escort back to your room at night to ensure you don't stumble into the wrong cage.
A group of locals, including Raiders coach Ricky Stuart, were the first to experience the lodge last weekend after buying the experience from a fundraising auction for the Canberra Cancerians.
"I've been involved in the zoo a number of times, but now actually having had the experience of staying here, interacting with the animals and sleeping two metres away from the bear on Sunday night," said Stuart.
"It probably wasn't a different experience for my wife but it was for me. It was just a fabulous occasion and it's something I'd love to do again."