Canberra-born sports journalist Erin Molan finds her voice on The Footy Show
Erin Molan has found her voice in the male-dominated world of sports journalism, whether it be talking about the game, or how she deals with sexism, or raising awareness for causes dear to her heart.
Maybe she was always destined to end up on television. When she was a little girl, growing up in Jakarta, Indonesia, where her father, then Major General Jim Molan was stationed with his young family, she would organise her siblings and make news videos to send back home to her grandparents in Canberra.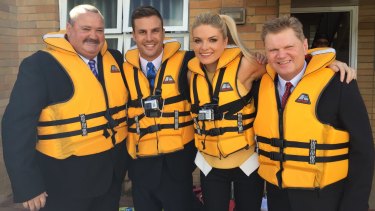 "We'd record them on these big clunky recorders and put them on to VHS tapes and send back to granny and grandpa," Molan says.
"They'd always be in the news style. I'd be the anchor on the desk giving an update on how our lives were going in Indonesia and I'd make my big sister be the entertainment reporter and my little brother did weather and my other sister did something else.
"I've always just loved news and that kind of format. Telling stories was always a big thing."
She moved back to Canberra in 2002, after finishing high school in Brisbane, and enrolled at university, studying a variety of things: Asian studies, law, sports science and politics. All she knew was she wanted to keep telling stories, and began sending her resume out everywhere. She got an audition with Channelvision, a local community television station, and remembers the day well.
"I was awful, just horrendous at reading the autocue, next level bad and the guy never rang me back," she says.
"For months I pestered him and sent him emails saying, 'I know I can do this, give me a shot'.
"He finally called me and said, 'If I give you a two-minute segment on the food show will you leave me alone'."
She was offered the job on her 21st birthday in 2004.
Her first story that went to air was an expose on the lettuces at Belconnen Fresh Food Markets.
"They were very crisp lettuces!"
For the next few years at Channelvision, she branched out into all sorts of things, doing business stories, vox pops, entertainment and sport.
"One of the big things we did was cover the local rugby union, and that's when I fell in love with writing about sport. You would produce it, write it, do it all yourself, I found it really exciting."
Molan was always interested in sport. She was a gymnast for 10 years, and played netball and volleyball as a young girl. She's the first to admit, however, that she didn't know much at all about the football codes.
"I'm not a natural with rugby league, I didn't grow up with the sport, mum and dad didn't follow it, I wasn't in a household where we watched it every week.
"I've had to really work hard to learn the game and to understand it and learn about the players and how it all works."
One of Molan's strengths on air is her knowledge of the game, and it's refreshing to learn that she does work so hard to keep on top of it all.
After spending a few years with WIN News in Canberra, she moved to Sydney in 2010 and started working with Channel Nine.
"When I started working in Sydney, I thought Nine has the rights to the league, my opportunities are going to come in rugby league, I realised I really needed to learn the sport."
She would spend hours outside of work listening to veteran commentator Ray Warren call games, listening to former players and commentators Brad Fittler, Andrew Johns, Phil Gould and Peter Sterling. She would read every article in every newspaper about rugby league, constantly Google things to expand her knowledge.
"To this day, I spend hours before each Footy Show, in the days leading up to the show, getting across the issues and injuries and whatever is happening that week, where teams are at," she says.
"If I go on the panel and someone asks me a question and I don't know, it's because I'm an idiot and because I'm just a girl. If one of the former players doesn't know it's funny.
"I'm in that position where I can't not know. They can, they're experts, they're former players, they're legends, that's fine, but I'm there to know. That's why I do so much preparation. Ninety per cent of it I'll never use, but I feel much more confident if I'm really well prepared."
Molan's quite happy to talk about the concept of being "just a girl" in the male-dominated world of sports journalism. She's quite philosophical about the consequences of such things as the Mel McLaughlin/Chris Gayle incident, about Sam Newman's outburst regarding the Eddie McGuire/Caroline Wilson saga.
"Everyone has dealt with sexism in our industry," she says. "When I first started in Sydney, I got stopped from going into locker rooms after games when my male colleagues were allowed to go straight in. I had to wait until I was given the okay that everyone was ready for a woman to go in, and I missed out on stories. That was only five years ago.
"But it's nothing that's unique to our industry … women in accounting firms, legal firms, schools, in retail, everyone deals with it.
"But when things happen publicly, like with Mel and Chris Gayle, it starts a conversation and that's always a good thing because it raises awareness of it and each time it happens it happens less and less after that."
I ask Molan what she would have done if she was on the panel when Sam Newman had his rant, if she would have called him up.
"That is a hard one, and to be honest I'm not right across what happened, but when you're working alongside people you have to continue working alongside, and you have your own values and beliefs that you wouldn't stray from, it is a difficult one," she says..
"But if there is something I feel strongly about then I have no qualms about speaking up to my colleagues, publicly and privately, and I have done that before."
Molan has nothing but praise for her colleagues on The Footy Show.
"When I started on the show I realised I needed to invest in my relationship with Fatty, Beau and the Big Man [Paul Vautin, Beau Ryan and Daryl Brohman] more than anything else because that's what would allow me to flourish," she says.
"I put a lot of effort into becoming friends with them, which sounds really weird, but when you're sitting on a panel I want to know if I say something they'll have my back.
"You can tell at home, if you're watching a show, if people like each other. You can't fake it.
"One of the best things about being on this show is that those three are three of my best mates, we speak on the phone two to three times a week, Fatty will just ring me to chew the fat."
Vautin is equally admiring of Molan.
"Erin is a star," says Vautin. "She is one of the most professional and articulate sports journalists that I know. Smart, incisive and cutting edge. Basically everything that I'm not. She has been a godsend to our show and I love working with her."
While Molan, 33, does bring a certain glamour to The Footy Show she's happiest when she's at home wearing her ripped trackie pants and a top with a hole in it.
"I get that you need to get dolled up for the world of television, but it's definitely not me," she says.
"My idea of a great night out is sitting about on the lounge with my boyfriend, watching the football."
****
When her sister Sarah was diagnosed with bowel cancer in 2011 Erin Molan knew she had to do something to raise awareness of a disease no one talked about.
"Bowel cancer's not an easy cancer to talk about, it's not sexy, it's bowels, it's gross.
"My sister's story was horrendous at the time, we are so lucky she's alive and she's survived, but it would be negligent of us not to use my position in the media to try and raise as much awareness as we can.
"If Sarah didn't go and get tested I'd be sitting here looking after her children and there are so many families out there we can help."
Her heart-wrenching story on The Footy Show in 2015 was recognised by the Colorectal Surgical Society of Australia and New Zealand media award.
"There's one to stick on your mantelpiece!" she laughs. "I wanted a Walkley or a Logie but i'll take this ahead of those any day."
Molan says she heard from a man who lost his young daughter to bowel cancer just recently. But prior to her diagnosis, seeing Molan on the show had prompted the family to have his daughter checked.
"He wrote into the show about three months ago and said, ...his daughter had been having similar symptoms and they went and got tested and she had stage four cancer," she says.
"He just wanted to say thank you because we gave them more time with their daughter. My mum and I went to her funeral. It was just horrific in every way but her parents embraced us and couldn't let go and said you gave us six more months with our girl.
"It's stuff like that that matters, none of the other bullshit - the clothes you get, how pretty your hair looks and whether you get asked for a photo.
"Who gives a shit? It's about being able to do that kind of stuff. I work with Save our Sons, The Starlight Foundation, Dreams to Live For, there are so many charities I'm so passionate about that I can help. That's what it's all about to me."
Karen Hardy is a reporter at The Canberra Times.