Canberrans celebrate same sex marriage yes vote in Haig Park
After Donald Trump's election and Brexit, Jodie Vaile was not holding her breath for a "yes" vote.
The past two months had been "hell" for Ms Vaile and her partner of 19 years Jen Simpson.
But their fear turned to joy as they heard three in four Canberrans had voted in favour of marriage equality.
The couple were among the hundreds of Canberrans who celebrated the coming legalisation of same-sex marriage in Haig Park, where both tears and bubbly flowed freely.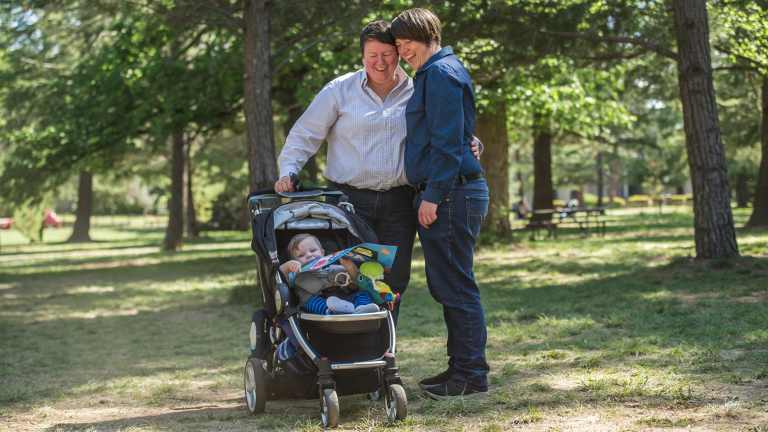 As the celebrations wore on, Ms Vaile and Ms Simpson wheeled their sleeping son Felix to a quieter spot under the trees and drank sparkling wine from cardboard coffee cups.
"It's really hard to describe how it feels to have someone vote on the validity of your relationship and your family and that Australia came back so strongly in the yes is just a very wonderful feeling," Ms Vaile said.
But Just Equal spokesman Ivan Hinton-Teoh said the mood was relief rather than revelry.
"The expression of this community, the hundreds of people that are here is not unfettered joy. It's relief. It's a release from fear and terror that they've lived every day for the last two months.This is a release from the national judgement they've been subjected to so while we should celebrate today we should not celebrate the process," Mr Hinton-Teoh said.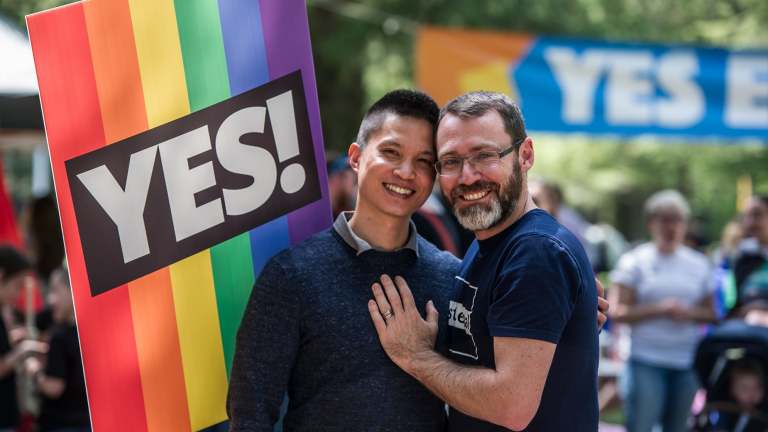 "We should not celebrate what the government has put this community through and we should never, ever, subject a minority group to this process ever again."
Mr Hinton-Teoh has married his husband Chris three times.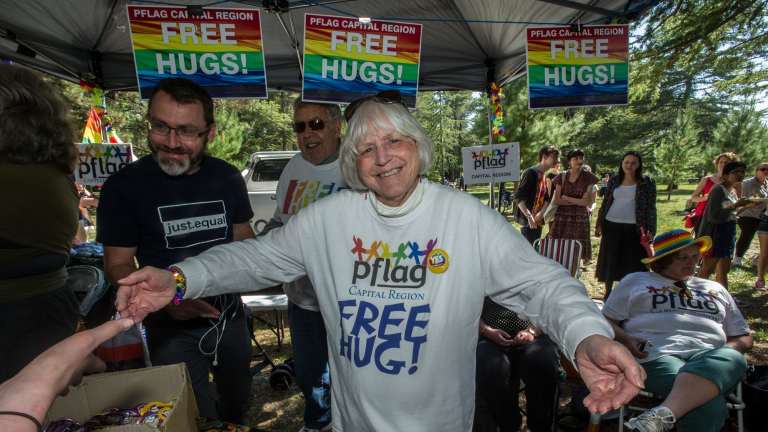 Australian marriage law will stop them from tying the knot in Australia when same-sex marriage is legalised, as it prevents couples who've married overseas from marrying again, but Mr Hinton-Teoh said he was looking forward to finally having a sit-down reception.
"I want to have the chicken or the beef," he said.
"I feel sorry for heterosexual couples who imminently will have more competition for Canberran venues and service providers because so many LGBTIQ community members who have not been able to celebrate their relationships in a way in which we see fit and a way in which others take for granted.
"But I know by the resounding support for marriage equality that we've now seen in the ACT as a result of this postal survey that Canberrans will understand and they will celebrate with us."
Mr Hinton-Teoh's mother and president of Parents and Friends of Lesbins and Gays Capital Region Dianne Hinton said she was feeling "overwhelmed with joy" at the result.
"It's one I can't describe. It is taking me everything to stand on two legs," she said.
Julia Byford said the survey period had been difficult for her and her partner.
"It has really impacted us the past couple of months. Personally and a lot of our friends, it has been a hugely destructive, vile, vicious campaign and we've all felt persecuted really," she said.
"This is a fundamental human rights issue and for us, it's a really important step for Australia generally and for us in the community, because it means that woman over there that I have loved and lived with for 27 years, and there is always that nervousness, we know our rights aren't protected.
"So we just feel relieved that we can now enjoy the rights of every Australian in terms of marriage, and that is a huge relief. But for us beyond that it really is about human rights."
Celebrations are expected to continue well into the evening. Campaign group Australian Marriage Equality received approval from the ACT government to close part of Lonsdale Street, Braddon, near Hopscotch bar from 6pm
The street party will kick off at 5pm, when Hopscotch will open its doors and people will be invited to chalk the street rainbow.
A 2-metre high balloon rainbow "yes" will cross the road. Several Lonsdale Street vendors will cater to party-goers with interstate DJs to provide the music.
WA Liberal senator Dean Smith, Labor's Penny Wong and ACT Chief Minister Andrew Barr will speak at the event.
- with Isadora Bogle and Jack Price