Canberrans named entrepreneurs of the year
Founders of the Canberra-based global healthcare organisation Aspen Medical, Glenn Keys and Dr Andrew Walker, have shared a lot of memories throughout their 40 years of friendship – from high school, to the military, to their weddings – they now also share the title of 2016 Australian Entrepreneurs of the Year.
It marks the first time in the 30-year history of the Entrepreneur of the Year awards that a Canberra Company has brought home the top prize. Walker and Keys will now travel to Monaco in May to compete against entrepreneurs from over 60 countries for the title of EY World Entrepreneur of the Year.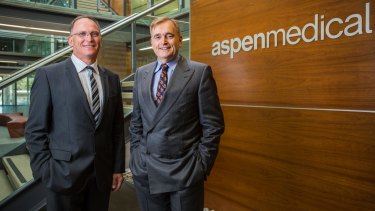 Aspen Medical is a business that provides healthcare services in challenging and under-resourced environments.
Founder Glenn Keys said that he was proud to even be finalists in the hotly contested National Services category, let alone win the overall category.
"It was amazing to be standing up there in front of a room of 600 people as they gave us a standing ovation for what we'd delivered. It was pretty awe inspiring and very, very humbling," he said.
In the 13 years since the company's inauguration, Aspen Medical has expanded to a team of more than 2200 health professionals across every continent, treated Ebola in Africa, saved East Timor's president Jose Ramos Horta after an assassination attempt, and provided health care in remote indigenous communities across the Northern Territory – no mean feat for a Canberra-based company.
Mr Keys said that contrary to the popular belief of Canberra as just a "public service city", it is the perfect environment for a business to thrive and the award is helping people to realise that.
"We've always been proud of Canberra and I think what we have done is use the advantages of Canberra to our best advantage. We are close to government, close to every embassy, anywhere is really close, be it Sydney, Melbourne or further afield, and we have a fantastically trained workforce. So look to the advantages of Canberra and play to those strengths rather than looking to the negatives, or the positives of other cities."
According to Mr Keys, the key to any business's success is to "have your vision clear, know what you want to achieve and be proud of everything you deliver, no matter what it is".
"Working across so many business cultures is challenging, but honestly we all love it and the people we've got in our organisation are the reason for our success because they are self-starters, they think independently and we trust them," he said.