Canberrans say they'll walk farther for faster, more frequent buses
Canberrans say they are prepared to walk farther to catch faster, more frequent bus services, ahead of a massive overhaul of the ACT's public transport network.
The bus network will soon move to a seven-day timetable, with buses running along nine rapid routes every 15 minutes from 7am to 7pm on weekdays, and at least every half an hour on weekends.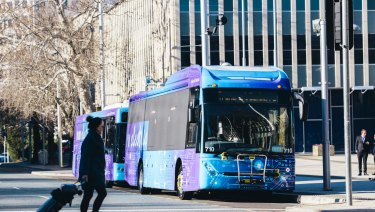 Some bus stops will be removed as routes are straightened to speed up travel times, with fewer routes running more often.
While the nine rapid routes are locked in, consultation is set to begin next month on suburban services to connect people to transport corridors.
A Transport Canberra survey released on Friday revealed 532 of the 678 respondents (78 per cent) were willing to travel farther to catch the bus in exchange for a more regular service.
However, about half said there should be demand-responsive bus services for people who could not get to bus stops or interchanges because of distance or mobility problems.
Around 61 per cent said there should be flexible buses for people with limited mobility, while about 40 per cent said buses should be used as ride sharing services for large employment areas or workplaces.
The consultation paper said redesigning the network would free up some buses to provide those on-demand services.
It said the inner south, including Narrabundah, could be a good candidate for the demand-responsive buses following the brouhaha over the cancellation of Route 5 last October.
Asked what would make them catch public transport, 62 per cent said more frequent services and 54 per cent said faster journeys.
Close to 40 per cent said public transport priority over regular traffic while only 18 per cent said newer, climate-controlled buses.
Most people said they preferred to get information about route changes and timetables via mobile apps (65 per cent) and online (70 per cent) although over a third (35 per cent) still rely on traditional paper timetables.
The bus network changes will tie in with the introduction of light rail.
The rapid routes will be the foundation of the public transport system, with suburban services feeding into them.
The consultation paper also flagged a review of the current Tuggeranong Bus Station operations, in the context of urban renewal in Anketell Street.
It said the tourist loop bus had failed to encourage visitors to use public transport, which could indicate the service could be scrapped in the new network.
The new rapid routes
R1: (light rail) Gungahlin to City via Dickson
R2: Fraser to Fyshwick via Kippax,
Belconnen, UC, ANU, City, Barton and Kingston
R3: Spence to Canberra International Airport via Belconnen, UC, ANU, City and Russell
R4: City to Lanyon via Woden, Mawson and Tuggeranong
R5: City to Lanyon via Russell, Barton, Woden, Erindale and Calwell
R6: City to Woden via Barton, Kingston, Manuka, Griffith, Narrabundah and Canberra Hospital
R7: City to Woden via Molonglo and Cooleman Court
R8: Belconnen to Gungahlin via UC Hospital
R9: Belconnen to Watson via Bruce, Dickson and Downer
Katie Burgess is a reporter for the Canberra Times, covering ACT politics.