Canberra star Anna Flanagan will make her Olympic Games debut in London after she was selected in the Hockeyroos team today.
Coach Adam Commens trimmed his squad to 16 for the Games and Flanagan made the final cut.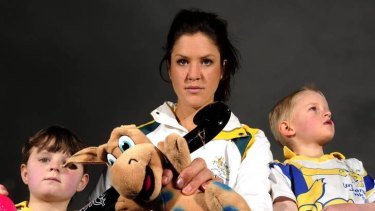 The 20-year-old defender's selection caps off a boom rise through the hockey ranks.
Flanagan received a late call up to compete at the Commonwealth Games in India two years ago and is now preparing for her Olympic dream.
The Hockeyroos haven't won an Olympic medal since they won gold at the Sydney Games in 2000.
But after claiming the top prize at the Commonwealth Games, the team's sight are on returning to the top of the Olympics.
Flanagan has been in Canberra for the past four days, but will return to Perth tomorrow to ramp up training ahead of her trip to London.
Flanagan will be joined in the team by Crookwell junior Emily Smith. At just 19 years old, Smith is the younger member of the team.
The average age of the Olympic-bound team is just 25.
''It is a great time for the future of the Hockeyroos,'' Commens said.
''There was a lot of competition within the group of 27 across the attack, midfield and defence and it was a difficult process to pick the final squad, but I am very happy with the team we selected.
''We still have a lot of improvements and a lot of growth in us, but I am confident the 16 girls chosen for the London Olympics are the best which augurs well for the future.''
Athens 2004 goalkeeper Toni Cronk returns to the team and six Beijing Olympians form the nucleus of the squad in Teneal Attard, Casey Eastham, Kobie McGurk, Hope Munro, Megan Rivers and captain, Madonna Blyth.
Australia faces three higher-ranked teams in Pool B of the Olympic draw - Argentina (No.2), Germany (No.3) and New Zealand (No.6). But Commens was careful not to discount number 12 ranked South Africa either who drew with world number one the Netherlands at the London Cup.
The Hockeyroos will spend one more month in Australia before heading to London on 15 July and contesting three practice matches on London's iconic blue Olympic pitch.
HOCKEYROOS
Teneal Attard, Madonna Blyth, Fiona Boyce, Jade Close, Toni Cronk, Casey Eastham, Anna Flanagan, Kate Jenner, Kobie McGurk, Hope Munro, Georgia Nanscawen, Ashleigh Nelson, Megan Rivers, Jodie Schulz, Emily Smith, Jayde Taylor