Canberra's Conor beats the Irish at their own game
On the back of the announcement of Sasa Sestic​ claiming the title of world's best barista in Seattle this week, Canberra has had another international triumph.
Conor Simpson won the gold in men's Irish dancing at the World Irish Dancing Championship in Montreal, Canada last week.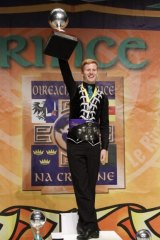 Surrounded by dancers growing up, 20-year-old Conor was trained by his mother Monica Simpson at their family's Irish dancing academy in Fyshwick from the age of nine.
Conor won the title for male Irish dancing in the state and national championships to qualify for the world competition while studying a degree of economics and finance at the ANU. He used his summer university break to travel to Ireland to train with other dancers.
After working so hard, Conor was ecstatic to beat the Irish at their own game.
"Winning the world championships was amazing. Very few Australians have ever reached this mantle," he said.