Canberra's power couples - the cream of the crop
Knowing the right people can be invaluable in a city synonymous with deals and power games, but the capital's most influential couples don't usually advertise their personal partnerships. From Capital Hill to the boardroom, the media spotlight to the catwalk, we look at the work – and ask about the after-work discussions – of the city's leading pairings.
The level of professional power individuals hold is often different from that of their partners, and some are at different stages of their career. But each is a leading contributor in their area of expertise.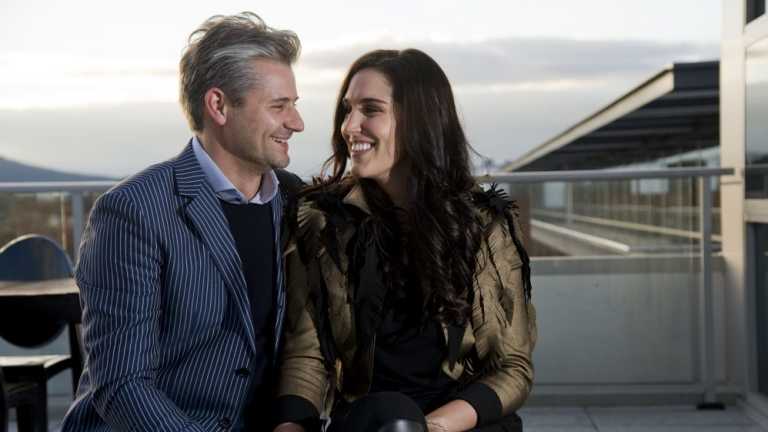 Emeritus Professor John Warhurst, who has analysed the holders of political power in Canberra for more than two decades, said ranking influence was imprecise.
"Many of the couples represent different types of power: direct political, indirect, power over public opinion, cultural power, so it is often difficult to compare," he said.
Couples were given an opportunity to comment.
10. Stephen Parker, University of Canberra vice-chancellor, and Associate Professor Rhian Parker, from UC's faculty of health.
The University of Canberra has experienced a transformation in recent years, and vice-chancellor Stephen Parker can take a large share of the credit.
Less than a quarter of a century after it attained university status, in the last year UC entered the world rankings in the 601-650 bracket, and at least seven academic experts departed the ANU to make the Bruce campus their professional home.
The university head since 2007, Professor Parker is a former British lawyer and the architect of the current Breakthrough five-year plan.
"Student feedback on teaching has improved significantly … we are now in the top 10 of Australian universities on the Good Teaching Scale [and] research output has improved markedly."
With oversight of the education of more than 12,000 students, Professor Parker has seen full-time equivalent student numbers rise by one-third since 2009. Opportunities in the health field will be expanded with the teaching hospital to be built on site.
One of the academics attracted west is the vice-chancellor's wife, Rhian, an associate professor in the university's centre for research and action on public health since June.
A chief investigator who has researched – among other topics - the role of nurses in the primary care setting, her work is part of the "research jigsaw" that influenced funding changes in 2012 to allow nurses greater flexibility.
With her husband's position providing a house on campus, Associate Professor Parker said the day's work events were part of the evening discussions.
"I think like most couples we do discuss things while cooking dinner, I have to say, and someone in his position needs to, not debrief so much as converse, but it stays in the house," she said.
Warhurst: Could be ranked higher. Higher education is culturally and economically important in Canberra and UC is a major figure, not just in ACT, but also nationally in some spheres.
9. Chris Faulks, Canberra Business Council CEO, and John Faulks, Deputy Chief Justice of the Family Court
A Canberra business owner wants their interests brought to the attention of Chris Faulks, but there's been some trouble if their issues reach her husband.
As chief executive of the Canberra Business Council since 2007, Ms Faulks is arguably the city's leading policy advocate for the capital's private sector, representing the views of more than 5000 businesses to the federal, ACT and sometimes NSW governments.
The influential position – boosted by the council's industry body members such as the Master Builders Association and ACT Law Society – allows regular access to federal ministers and to the ACT's Katy Gallagher and Andrew Barr for the once chief of staff to then Senate president Margaret Reid.
Ms Faulks said recent advocacy successes were achieved with the ACT government's two-year stimulus package, digital city focus and initial public funding for the Australia Forum convention centre.
Her husband of 44 years, John Faulks, is Australia's second most senior Family Court judge.
In addition to about a week each month hearing appeals as part of the Full Court, the former Law Council of Australia president and ANU graduate is the sole trial judge in the Canberra region, hearing complex family law disputes from as far afield as Albury/Wodonga and Bega.
But at home, sitting across the dinner table, "he's just John," Ms Faulks said.
"We don't discuss anything to do with his cases or to do with the court, and to be honest it's just nice to talk about the things everyone talks about; family, friends."
Warhurst: Business and the law both exercise high-level influence and their influence reaches the every-day lives of very many people.
8. Michael Costello, ActewAGL CEO and GWS Giants director, and Christine Wallace, author and former Canberra press gallery journalist
If your power goes out or there's no gas for your hot water – and enough of your fellow Canberrans are affected – Michael Costello will hear about it.
The chief executive of ActewAGL has ultimate responsibility for the operation of the ACT's electricity and gas networks, employing more than 800 people across separate retail and distribution arms.
ActewAGL Retail supplies electricity to more than 90 per cent of homes and small businesses and 51 per cent of the large-customer market in Canberra.
The utility's leadership is the latest in high-level roles which have marked Mr Costello's career, from ambassador to the United Nations, chief of staff to then opposition leader Kim Beazley and secretary of the Department of Foreign Affairs and Trade.
He's also looking to grow the Canberra AFL affiliation as a GWS Giants director.
His wife, journalist and author Christine Wallace, had a long career in the Canberra press gallery working across print, TV and radio. Ms Wallace has written books on John Hewson, Sir Donald Bradman and Germaine Greer.
In 2011 she pulled – for reasons which remain publicly unknown – what was expected to have been a hard-hitting biography on Julia Gillard. Ms Wallace is currently preparing a PhD through the ANU'S National Centre of Biography based on the politics of political biography.
Warhurst: Both well-known over long-term and influential in many different circles
7. Fashfest co-creators Clint Hutchinson, managing director of Zoo advertising agency, and Andrea Hutchinson, managing director of Haus Models
In two years the Hutchinsons have become arguably the capital's leading trendsetting couple, influencing the clothes to wear and which beautiful people will be first seen in them.
Their four-day Fashfest event repeated its initial success this year, attracting 4000 spectators and 36 local designers. Next year the plans are for a named sponsor and more international focus for a festival which has already become one of the nation's largest after Sydney and Melbourne fashion weeks.
Mr Hutchinson estimated the festival – which brings together creatives as varied as makeup artists, DJs and interior designers – had contributed multiple hundreds of thousands of dollars to the economy this year. The event invigorated the local fashion trade and may have inspired the rise in fashion-design places at Canberra Institute of Technology, up to 30 spots from 22 last year.
The marketing man has been managing director of the Zoo Advertising agency since 2010, the firm behind ads for Colgate, the CSIRO and ACT Brumbies, as well as the "One Very Big Year" branding for Canberra's centenary celebrations.
He and his Swiss-born model wife Andrea, whom he met after she walked past the Zoo office in the rain (the new arrival unaware the capital's train line terminated in Kingston), founded boutique modelling agency Haus models last year.
Mr Hutchinson, who also sits on the board of the Salvation Army and Electric Vehicle Council, said the artistic couple were a perfect match.
"I think we're totally complementary to each other," he said.
"Andrea pulls me back if we go too far."
Warhurst: Power over culture and among young and influential and over public/community spending and trends
6. Chris Uhlmann, ABC Radio AM host, and Gai Brodtmann, shadow parliamentary secretary for Defence and member for Canberra
Behind the scenes influence is fine for most of the city's power couples, but for Chris Uhlmann and Gai Brodtmann grabbing attention is part of the job.
Uhlmann's voice can be heard across the nation each weekday morning on the agenda setting AM program, his return to radio in February following a distinguished stint as political editor on 7.30.
The former trainee priest broke from tradition when granted permission to host the program from ABC's Parliament House studios in Canberra, rather than its long-time Sydney base, as part of a commitment to be close to his Labor MP wife.
With one of the capital's most obvious conflicts of interests, Brodtmann said the couple had lived with a clear line on what work matters were discussed at home throughout their 22-year relationship, which began when she was a media adviser to ACT chief minister Rosemary Follett and he the Assembly reporter for The Canberra Times.
Uhlmann is on the record as having called a number of senior people in the Liberal Party, including Tony Abbott, when his wife stood for preselection in 2010, and said none had concerns.
While Uhlmann interviews the prime minister or cabinet ministers most days and Brodtmann received her first promotion in October, both shy away from the "power couple" tag.
Warhurst: An important, widely-known, national media voice and a rising Opposition member.
5. Jane Halton PSM, Department of Health secretary since 2002, and Trevor Sutton, deputy Australian statistician leading the ABS 2017 Group.
Australia's leading international health advocate, Jane Halton, is in charge of implementing a $60 billion budget, with responsibility for advice on and administration of Medicare, the Pharmaceutical Benefits Scheme, aged care and private health insurance among other issues.
"Essentially I am involved in all of the complex decisions made by government in the health portfolio and the minister [Peter Dutton] relies on my advice. In the end, he forms his own opinions, but I need to put all the facts before him ..."
The longest serving current secretary at a single department, Professor Halton wields global influence as chairwoman of the World Health Organisation's executive board and former five-year chairwoman of the OECD's health committee.
After coming to national attention as the convener of the People Smuggling Taskforce in the Children Overboard Affair more than a decade ago, Professor Halton is now tipped to be a leading candidate for the pending Finance Department secretaryship.
Her husband is Trevor Sutton, one of three deputy Australian statisticians at the Bureau of Statistics, and the one responsible for the 2016 census.
"Our aim is to have the majority of Australian households (65 per cent or more) complete their census online, with whatever device they choose ... This will represent a doubling of the rate of online participation achieved in 2011," Mr Sutton said.
While cabinet ultimately choose the questions to run in a census, Mr Sutton's ABS 2017 group provides the advice on content after community consultation.
In a busy portfolio dominated by demographics, Professor Halton said her husband's expertise was sometimes useful.
"We don't talk a lot about work at home but as I am accessible to staff and government 24/7 inevitably there will be work-related phone calls or emails received at home. And yes, I do take advantage of Trevor's statistical experience from time to time.
Warhurst: Like the Watts, public service power in two important areas.
4. Ian Watt AO, Department of Prime Minister and Cabinet secretary, and Lorraine Watt, assistant secretary for the Department of Finance's procurement management branch.
If Peta Credlin is seen most often by Tony Abbott's side at key meetings, Dr Ian Watt is a clear challenger to Joe Hockey as the second most likely to be found in the next chair.
The head of the prime minister's department and nation's most senior bureaucrat reports directly to Mr Abbott and is ultimately responsible for ensuring the Australian Public Service is meeting its role of professionally advising the government and implementing its agenda.
In addition to being a critical source of policy advice and playing an all-of-government co-ordinating role, Dr Watt said the PM&C secretary has the important task of advising the PM on secretary appointments and re-appointments across the other 17 departments.
Made an Officer of the Order of Australia in 2008, Dr Watt is the longest serving current secretary, having led four federal departments since 2001 and leaving Defence to take up his present role in 2011.
Lorraine Watt's assistant secretary role at the Department of Finance - which her husband led for seven years until 2009 - makes her responsible for creating and managing the contracts for 12 all-of-government purchases.
These include contracts for domestic and international air travel, the Australian government vehicle fleet, government advertising, credit cards and accommodation.
The senior executive service employee was elected to the governing ACT council of the Institute of Chartered Accountants in January.
Despite his diverse and interesting role, Dr Watt said work was not the couple's main talking point after hours.
"We always try to have dinner together and not to talk about work," he said.
"We succeed because there is a lot else in our lives to talk about."
Warhurst: Ian's central position especially powerful, but Public Service power generally.
3. Jeff Townsend, Endeavour Consulting principal, lobbyist for some of Australia's largest companies, multinational organisations and major industry associations, and Anne Trimmer, Australian Medical Association secretary-general.
In the unseen world of corporate lobbying and the often complex advocacy of doctors' interests, this pair shape as two of the capital's heaviest hitters.
There are lobby firms in Canberra with more staff and longer client lists, but only a few advise as many blue-chip corporations as Endeavour Consulting.
Jeff Townsend is the only remaining founding principal at the non-partisan firm that provides government relations advise to billion-dollar entities including Rio Tinto, Shell, the Seven Network, Woolworths, Google and Coca Cola.
Mr Townsend, whose time as a Labor staffer included two years as a senior private secretary to prime minister Bob Hawke, said most of the job involved advice rather than networking with political figures.
"Contrary to general assumptions about what lobbyists do, very little of our work involves organising meetings for clients with ministers, shadows and other MPs," he said.
"Most of our clients can open their own political doors. Our essential service is to explain the political process and provide strategic advice."
Anne Trimmer, Mr Townsend's wife, is, in effect, the chief executive of the Australian Medical Association, which represent the interests of about 30,000 doctors.
The powerful body has a prominent role influencing health policy and debate, including recently on the federal government's proposed GP co-payment.
Ms Trimmer became secretary-general in August, and played an instrumental role in changes to the association's constitution, approved last month, which make a major shift to the governance structure.
A former partner in commercial law firm Minter Ellison, Ms Townsend holds the honour of being the only person to have served as both a president of the Law Council of Australia and a president (the public spokesperson) or secretary-general of the AMA.
Across the dinner table, Ms Trimmer said it was a combination of trying to relax and talk work.
"It's a bit of both, we're both working in politics, so there's always something interesting there."
John Warhurst: Both have behind the scenes lobbying power at national level. AMA is a major NGO in a crucial area.
2. Mark Kenny, Fairfax Media national political editor, and Virginia Haussegger, ABC Canberra news presenter and NGO advocate.
One is the face of ABC Canberra, the other has one of the nation's most-read bylines.
In a city where media players make their names and political doyens reign, no pairing has the continued voice of Mark Kenny and Virginia Haussegger.
Mr Kenny heads Fairfax's press gallery reporting, and as a fixture on the front of The Canberra Times, Sydney Morning Herald and The Age reaches a combined daily print and digital readership of more than 3 million people.
The former ABC journalist joined Fairfax after six years as a Canberra-based political editor at News Corp's The Adelaide Advertiser.
A director of the National Press Club, the tireless newsbreaker also has a regular gig on ABC's Insiders program and SkyNews's Agenda, in addition to radio spots.
Ms Haussegger moved to the nation's capital with Mr Kenny in 2001 to host the new ABC Canberra 7pm news bulletin, the city's only locally-presented nightly broadcast.
Now a veteran of TV news after more than 25 years on camera, the award-winning journalist said she had input into some stories, but editorial control rested with the producers.
Ms Haussegger has been a noted commentator on gender issues since her landmark 2002 article on fertility and career – described by The Age as one of its most significant opinion pieces – and has been on the board of UN Women Australia since 2010, one of a number of women's and children's organisations she advocates for.
Her cultural influence is expanded by an adjunct professor role at the University of Canberra, where she has researched the contribution of women in the public service.
At home, in addition to critiquing her husband's TV work ("On Insiders he was waving his pen around once"), Ms Haussegger said the couple share ideas.
"We do our best thinking about issues over a dinner table, and often it's out in public at a breakfast," she said.
Warhurst: Both have power over public opinion plus some cultural power.
1. Peta Credlin, Prime Minister Tony Abbott's chief of staff, and Brian Loughnane, Liberal Party federal director
The nation's leading political couple wield unprecedented behind the scenes power over the strategy, staffing and election campaigns of the PM and Coalition government.
Attorney-General George Brandis describes her as "forceful", Barnaby Joyce says she can be "very tough" and Peta Credlin – often seen, rarely publicly heard – has been credited with bringing the discipline to Tony Abbott's office that has marked his leadership of the Liberal Party since December 2009.
The legally trained, Victorian-raised Credlin is rarely far from the Prime Minister who relies heavily on her judgment: whether in strategy meetings at the start of each parliamentary sitting day (where she, her husband and a handful of staff join leading ministers), later on the floor of Parliament in the advisers' area, or at meetings with heads of state.
One former Coalition insider said Credlin was a general who liked to be out in the field, more hands-on than earlier chiefs.
Her administrative eye for detail – and control – was displayed when at least a third of her Prime Minister's cabinet, from Joe Hockey down, had senior staff candidates rejected or imposed by the appointments panel she led.
A trusted high-level adviser, her husband of 11.5 years has run every Liberal election campaign since he became – at John Howard's request – the party's federal director in early 2003, and is understood to lead the way on polling and funding organisation.
"He's the chief of staff of the party," the former official said, and described the pair's influence as unequalled.
"I can't think of anyone who even goes close over the history of the Liberal Party - you can argue Sir Robert and Dame Pattie Menzies, and John Howard and his wife."
John Warhurst: "Both exercise considerable direct and indirect influence on the national government and within Liberal Party circles."
Canberra's 10 most powerful couples
1. Peta Credlin and Brian Loughnane
2. Mark Kenny and Virginia Haussegger
3. Jeff Townsend and Anne Trimmer
4. Ian Watt and Lorraine Watt
5. Jane Halton and Trevor Sutton
6. Chris Uhlmann and Gai Brodtmann
7. Clint Hutchinson and Andrea Hutchinson
8. Michael Costello and Christine Wallace
9. Stephen Parker and Rhian Parker
10. Chris Faulks and John Faulks
As ranked by Emeritus Professor John Warhurst from the ANU School of Politics and International Relations