Canberra's rainbow bus is heading to Sydney for Mardi Gras
Sydney's 40th Mardi Gras is set to include a sight more common on the rat-runs of Canberra than Oxford Street - a rainbow ACTION bus.
The bus - controversially commissioned last year ahead of Australia's postal vote on marriage equality - will join 80 members of Canberra's LGBTIQ community marching in Saturday's parade, led by Chief Minister Andrew Barr.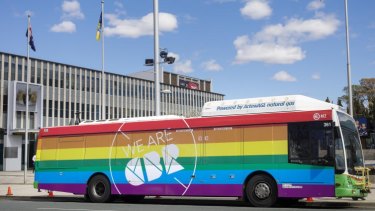 The $3800 bus charter was paid for by the ACT's Office of LGBTIQ affairs, a spokesman said. Mr Barr is paying his own way.
That a government delegation and bus are heading down for the event points to the rapid social change that's taken place in the 40 years since Mardi Gras began.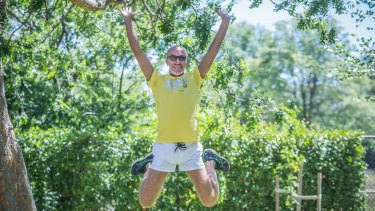 Hugo Walker was 17 when Sydney's first Mardi Gras was held and finally, at 57 years of age, he can march with pride.
For most of his life, he was part of a fundamentalist Christian church, and forced to hide his true self from the world.
When he confessed to his church mentor he was gay at age 22, the mentor recommended he undergo conversion therapy.
After months of "praying the gay away", Mr Walker was pronounced "healed and heterosexual".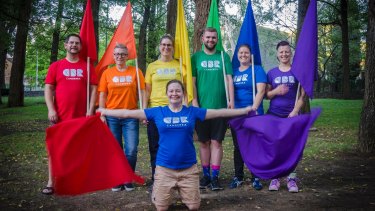 He was told get married and have children to complete his therapy.
When he finished his degree in Canberra he returned to Sydney, where he met his future wife.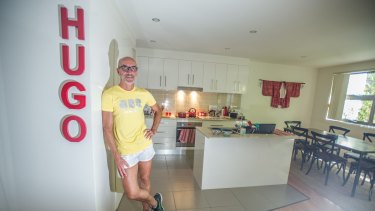 "We ended up being married for 25 years," Mr Walker said.
While their marriage was good in many ways, the last few years were "miserable".
"Even on good days there was a background level of stress and tension as a couple," Mr Walker said.
"I was praying out loud every day, reading bible verses for hours, because I'd promised to love this beautiful woman for the rest of my life and I couldn't."
Eventually, his 17-year-old daughter issued him an ultimatum over coffee in Scotland.
"She said to me 'sort your shit out and divorce Mum because I'm over it. You and I both know there's only one issue you need to sort out'," Mr Walker said.
"My daughter said she'd worked it out when she was about 13 but she didn't want to precipitate a life crisis I wasn't ready to have."
Mr Walker spent several months writing a 'coming out' letter to his wife. He rewrote it 27 times before finally giving it to her.
He said the separation process was "gruesome" but nearly five years on, he and his ex are best friends again.
When he and his daughter attended their first Mardi Gras together last year, she even wished him "Happy Mardi Gras". Mr Walker said it reduced him to tears.
There are likely to be more tears on Saturday too, as he reflects on the changes that have occurred in the decades since the first Mardi Gras.
"A lot of it will be tears of relief, tears for the guys who didn't make it, tears for the guys whose deaths are still being investigated by the NSW coroner. Even when I left Sydney, guys would go out poofter bashing and go throw them off the the cliff at Macquarie lighthouse after beating them up with baseball bats and knuckledusters," Mr Walker said.
"That's the challenge for Mardi Gras organisers - how do you acknowledge the pain and sacrifice and the people who lost their lives to get the freedoms we have today without taking away from the celebration that is Mardi Gras today, without it becoming a memorial or a funeral?"
Saturday will be Michael Wood's first Mardi Gras.
Like Mr Walker, he grew up in a religious household and didn't have any gay friends before last year.
He said the friendships he's made within Capital Queers has changed his life.
"It was a bit lonely before that," Mr Wood, 23, said.
"Now I'm just me and very confident. I'm not afraid, this is who I am, if you don't like it, it's your problem not my problem."
Katie Burgess is a reporter for the Canberra Times, covering ACT politics.