Capital life Saturday September 8 2018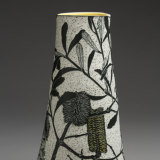 Place Makers
Craft ACT's annual members' exhibition Place Makers, now on at Craft ACT until October 20, features work by 75 artists. There will be floor talks on Thursday, September 13 at 12.30pm with mixed media, furniture and design artists, Saturday, September 22 at 12.30pm, Thursday, October 6 with with metal and ceramics artists and Saturday, October 11 at 12.30pm with glass artists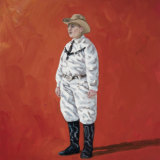 New Beaver shows
Two exhibitions opened this week at Beaver Galleries. In Melbourne artist Graeme Drendel's exhibition of paintings On uneven ground , the subjects, drawn from personal observations, appear as isolated or ensemble players, often in strange groups and in wide open spaces. Another Melbourne artist, Kirrily Hammond, is showing Lowland, inspired by an interpretation of the landscape and intersection between the landscapes of her imagination and those physically experienced. Until September 23.
Fading
Canberra Youth Theatre's second production for the year, Fading, is an original work by Melbourne playwright Laura Lethlean. It has been developed collaboratively drawing on the cast's individual and ensemble responses to transitioning from childhood to adulthood, using physical theatre and lyeica language. The production is directed by Katie Cawthorne and is on at the Courtyard Studio, Canberra Theatre Centre, from September 12 to 15 at 7.30pm. Bookings: cytc.net.
Right There On My TV
At the National Film and Sound Archive's Arc Cinema on Friday, September 14 at 7pm, Right There On My TV presents a nostalgic look at the pioneers of Australian music video from the 1970s with rare footage of performances and interviews from ABBA, AC/DC, Mick Jagger and more. There will be snippets from programs such as Nightmoves and Bandstand as well as original Canberra television commercials from the 1970s that are not available to see anywhere else and have not been seen in 40 years. Special guest for the night will be actor and singer, Marty Rhone. Tickets $20. More information and bookings: .nfsa.gov.au/events/right-there-my-tv.
After the Apology
There will be a free film screening of Larissa Behrendt's film After the Apology at the National Museum of Australia on Thursday, September 13 at 5pm. It tells the story of four Aboriginal grannies who challenge government policies to bring their grandkids home. The screening. which celebrates the 11th Anniversary of the United Nations Declaration on the Rights of Indigenous Peoples (UNDRIP), includes refreshments and a panel discussion. Tickets: eventbrite.com.au/e/undrip-11th-anniversary-free-community-screening-after-the-apology-tickets-49275641771 and enquiries: human.rights@act.gov.au
Calling all art critics
The 2019 ANCA Critic-in-Residence (CiR) program is back in 2019. The ANCA CiR, in partnership with Art Monthly Australasia magazine, presents a professional development opportunity for emerging art writers from the Canberra Region. They will be offering three emerging art critics from the Canberra Region a stipend for three months each, a mentorship with Art Monthly Australasia editor Michael Fitzgerald, publishing opportunities online and in print both though ANCA and Art Monthly Australasia as well as a 12-month subscription to Art Monthly Australasia. Send your folio consisting of three pieces of writing and CV, preferably as a single PDF file, to gallery@anca.net.au. For further information please contact Karena Keys via the same email address.
Ron Cerabona is an arts reporter for The Canberra Times.