Chief Minister Andrew Barr to consider citizens' juries on big decisions
Chief Minister Andrew Barr will consider citizens' juries in his push for wider consultation.
The juries are used in South Australia on questions such as whether to use the state as a storehouse for nuclear waste, compulsory desexing of pets, and a one-metre rule to protect cyclists from cars.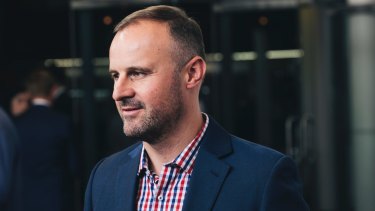 Next week, two people who run the South Australian juries and other systems of "deliberative democracy", will speak in Canberra.
Emily Jenke heads Democracy Co, which ran the 350-strong citizens' jury that decided against overseas nuclear waste in the state last year, among others.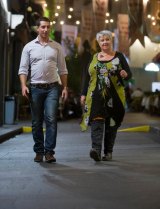 The juries helped with complex decisions and meant "better, more long-term decisions being made that are not susceptible to election cycles and the politics that sits around most big topical issues", she said.
Juries are chosen through big, random mailouts. But organisers decide what kinds of people will take part at a broad level - in the case of cyclists, people were chosen in a 15km radius of the city, and to ensure half were city cyclists and half weren't. In a jury on desexing pets, which decided desexing should be compulsory for new pets, the jury was split evenly between pet owners and non-owners.
Mrs Jenke said organisers aimed to recruit juries who could make a "balanced, objective analysis of the problem" which meant they usually included people who knew a lot and people who knew very little about the topic.
Mr Barr's push for more representative consultation came after he was forced to back down on Grocon's Manuka Oval development bid, after a strong campaign from local residents. Mr Barr wants to include unheard voices in debate.
His spokesman confirmed this week that citizens' juries could well be part of the mix for major decisions, but only among a range of models.
Mrs Jenke said the best questions to put to a jury did not have yes-no answers. In the pet desexing case, people were asked how to reduce the number of unwanted pets - so as well as desexing they called for pets to be allowed in rented properties to reduce the number of abandoned pets when people had to move home through a relationship breakdown or losing a job.
Asked whether governments might set up a jury with a result in mind, Mrs Jenke said her company focused on the process not the outcome. The aim was to bring a group together to explore a topic in depth and come up with some "commonsense judgements and recommendations".
Gail Fairlamb, of South Australia's Department of Premier and Cabinet, is in charge of Premier Jay Weatherill's "reforming democracy" program. The government also runs "people's budgeting" in which people vote on projects to support disadvantage; an "innovation challenge" to fund carbon-reduction start-ups and; a "sharing economy" challenge looking for ideas such as Britain's Good Gym which connects socially isolated older people with runners.
Ms Fairlamb said citizens' juries were not the same as referendums because they allowed a "deep dive" into issues.
She rejected the suggestion that the government was looking for an easy way to justify its policies, saying there was no persuasive element in juries. This helped build trust and understanding between government and people.
"As a public servant, you should be responsive to what the community considers to be good policy or bad policy so testing it with randomly selected, everyday people from the community in a very deliberative way is the right thing to do," she said.
"Deliberative democracy gives the opportunity for citizens to participate to understand that some of the policy amendments are not easy, some of these things are complex problems require careful consideration. What we've found is that jurors coming through that process report that they have more empathy for policymakers, and policymakers viewing the jury have a lot more faith in the community and the community's ability to make a really well-considered decision."
Kirsten Lawson is news director at The Canberra Times