Choose Healthier pilot program targets obesity in Canberra
Canberra's Hellenic Club general manager Patrick McKenna says its bistro and playground are crawling with children most nights.
And from next month, its smallest patrons will have more nourishing options to fuel their bodies.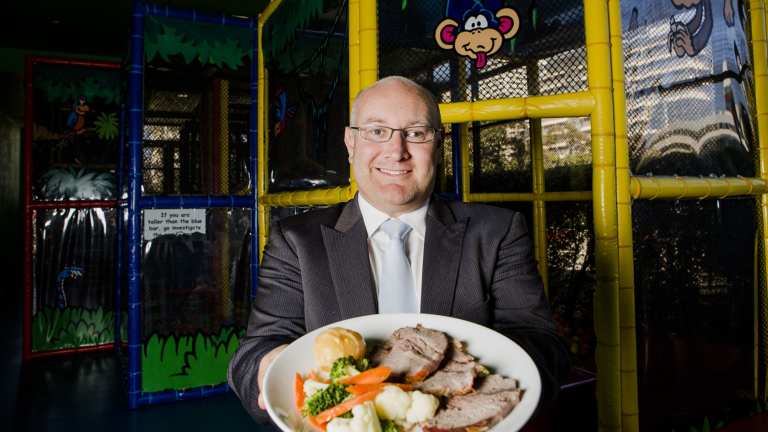 The club is one of five businesses involved in a three-month pilot to help Canberrans make healthier food choices.
Limelight Cinema in Greenway and Macgregor cafe Tommy & Me, as well as IGA Nicholls and Drakeford IGA in Kambah, will also trial new ways of promoting healthy food, with the support of a nutritionist, the Canberra Business Chamber and the ACT government.
Mr McKenna said the Hellenic Club would sit down with a nutritionist on Thursday to find out how to improve the nutritional value of its menu.
"A quarter of our kids are overweight, so we see this as a really good community cause and something where we can make a significant contribution because we have thousands of kids every week coming to the club," Mr McKenna said.
"You'll still be able to order a schnitzel here at the club but there will be other choices which are quite healthy choices and we're going to market those in such a way that they'll get a good take-up from those people who come here."
The pilot is part of the government's Healthy Weight Initiative, and comes as the government works to lower the territory's obesity rates.
Terry Karkazis, who owns IGA Nicholls and Drakeford IGA, lauded the program as a proactive approach to tackling obesity.
"We push fruit and veg as much as we can in our stores but that doesn't do enough as far as weighing the basket choices of our customers," Mr Karkazis said.
He hoped to help his customers navigate the minefield of supermarket shopping by prominently displaying healthy alternatives, particularly in the confectionery aisle, and through a specialised ticketing system.
And he wants to push this awareness past the supermarket doors and into local schools.
"We very much want to work with our local schools. We want to engage Namadgi School and the Nicholls schools as well," Mr Karkazis said.
The pilot, which will wrap up in June, will be used as a blueprint for a wider rollout.
Katie Burgess is a reporter for the Canberra Times, covering ACT politics.