City promised new stadium with roof by 2020
Canberra will have a new rectangular stadium with a clear, polymer roof by the end of the decade.
The Canberra Times can reveal the ACT government has started working with architects on designing a replacement for Canberra Stadium, with the University of Canberra emerging as a surprise potential location.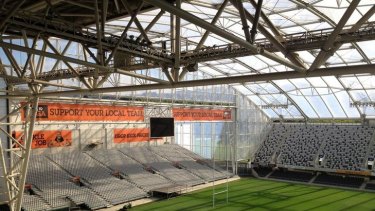 Sport Minister Andrew Barr was in New Zealand with Territory Venues general manager Neale Guthrie this week on a fact-finding mission at Forsyth Barr Stadium in Dunedin.
He said the capital could benefit from copying the design for a multi-sport and multi-purpose venue, adding a roof was essential for the new venue.
The $A150 million Forsyth Barr Stadium has a permanent capacity of 20,000 with the ability to increase to 30,500 seats with a 37-metre high roof made of a strong fluorine-based plastic. It can host rugby union, rugby league and soccer matches as well as concerts and conventions.
Mr Barr is keen to start a ''stadium fund'' for the planning and building process which is expected to be complete in 2018 or 2019.
The first priority is settling on a location and the Government has five options:
■ Build on the current Canberra Stadium site;
■ Build adjacent to Canberra Stadium;
■ Create a new precinct at West Basin with a potential convention complex and the proposed Australia Forum;
■ Build a stadium on the site of the Civic Pool adjacent to the convention centre, or;
■ Create a sporting precinct at UC.
Mr Barr was impressed by Forsyth Barr Stadium and its close relationship with the University of Otago. UC has expressed its desire to become the sporting hub of Canberra and the ACT Brumbies could move their base to the campus in the coming years.
He will meet new federal sports minister Kate Lundy in the coming weeks about proposed upgrades at Manuka Oval and the new rectangular venue.
''It's an absolute no brainer of getting a facility that provides that level of spectator comfort,'' Mr Barr said.
''When you're indoors, it opens up facility use for different purposes.''
The stadium would need to be able to create revenue with a hotel on site as well as becoming a possible transport hub.
The stadium would also sell corporate suites in advance to guarantee revenue and Mr Barr wants private sector support to boost public funding.
''You would have the co-location of a hotel on site so there's capacity for revenue coming in 365 days, not just game day,'' Mr Barr said.
''We're using the same architects as Dunedin and we'll learn from their experiences.''
The government will continue minor upgrades to Canberra Stadium and Manuka Oval will also get a significant revamp. The first priority is to get lights at Manuka Oval as part of a $30-40 million upgrade over four years including new stands and covered seating.