Commonwealth Club courts members of ailing Canberra Club
Members of the asset-rich but troubled Canberra Club will be introduced to the Commonwealth Club on Friday, and those considering joining may one day rub shoulders with former Prime Minister Kevin Rudd.
Mr Rudd's nomination by long time friend and former ASIO chief David Irvine has dismayed some members, but is likely to be accepted.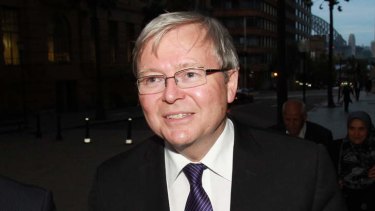 Once regarded as a stepping stone to the Commonwealth Club, the Canberra Club is incurring trading losses of $40,000 a month.
Members are torn between merging with another club, or moving to a new location and battling on alone.
After selling its interest in Canberra House last year, the city's oldest licensed club has about $4 million in assets.
Several clubs have proposed mergers. Yowani Country Club and the Commonwealth Club are the frontrunners.
Two board members recently broke ranks with fellow directors to give members more say in the club's future direction. Members are still mulling over proposals.
Meanwhile the Commonwealth Club has invited the board and members of the Canberra Club and their partners to a cocktail party on Friday.
The aim is to introduce them to the Commonwealth Club, in Forster Crescent, Yarralumla.
A casual affair, no jackets or ties are required. A collared, button through shirt will be acceptable. No runners or sandals are stipulated on the invitation.
These are dynamic times for the Commonwealth Club, with Mr Rudd's nomination being supported by former chief of the Defence Force, Angus Houston and media baron Kerry Stokes.
The Commonwealth Club's proposal last year to Canberra Club members included waiving subscription fees for five years. The $3000 joining fee would be drawn from funds transferred from the Canberra Club to the Commonwealth Club.
The Commonwealth Club would recognise the former Canberra Club by having selected memorabilia displayed.
Canberra Club president Rick Reeks was not impressed.
In a letter to members he said that on dissolving the Canberra Club, members would hand over all their remaining cash unconditionally.
''Simply put, they take our cash and effectively guarantee the members nothing in return,'' Mr Reeks said.
Other members baulked at Yowani Country Club, saying golf clubs generally did not have a solid financial future.
John Thistleton is a reporter for The Canberra Times.