Compensation for deaths on worksites to double under draft laws
The amount of compensation paid to the families of people killed at work will double, if draft laws pass the ACT Legislative Assembly.
Bosses who fail to pay injured workers weekly compensation can also be fined up to $300 on the spot, under the new legislation.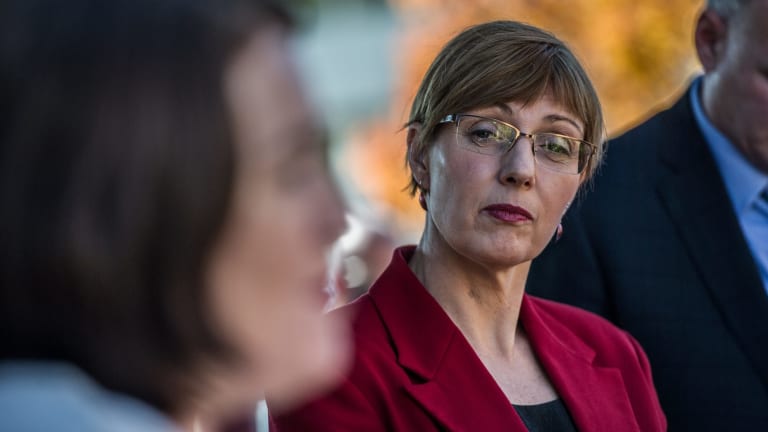 Workplace safety minister Rachel Stephen-Smith said the boost in compensation would bring the ACT into line with Comcare and "help close a gap" between the private and public sectors.
Families would receive a lump sum payment of nearly $540,000 if their loved one was killed on a work site. Before, they would receive around $217,000.
Families would also get nearly $12,000 for the funeral, up from about $5800.
The weekly compensation paid to dependant children would also rise from about $72 per week to $145 per week.
Employers who failed to pay dependants weekly compensation could be fined under the draft laws.
It would be a tool for Access Canberra to force those who repeatedly failed to pay compensation to comply, however the agency would try to educate them first, an explanatory statement said.
Ms Stephen-Smith said they had learnt not all bosses in Canberra were paying staff off-work due to injury weekly compensation, leaving them in a "vulnerable" position without income.
She said Access Canberra currently had "limited" enforcement powers in this area.
"Amendments contained in this bill ... provide WorkSafe inspectors with a mechanism to issue an on-the-spot fine on an employer who refuses to comply," Ms Stephen-Smith said.
The laws would also enable workers to get compensation for another 20 diseases, if they can show their job is associated with that disease,
The new diseases include Hepatitis A (which can affect child care workers, disability carers or plumbers), Hepatitis B and C (associated with health care workers, police or embalmers), and HIV/AIDS (which can infect health staff or lab technicians after needlestick injuries).
It also includes noise-induced hearing loss, lung cancer as a result of exposure to diesel engine exhaust and skin cancer from solar radiation.
It would be harder to get compensation for tenosynovitis and ankylostomiasis under the changes, with the onus of proof will be on the claimant. Ms Stephen-Smith said their removal from the list of employment-related diseases was based on "expert advice'
The laws will be debated in another sitting.
Katie Burgess is a reporter for the Canberra Times, covering ACT politics.
Morning & Afternoon Newsletter
Delivered Mon–Fri.