Compulsory third party insurance topic of first citizen jury
ACT Chief Minister Andrew Barr says the territory government will honour the verdict of 50 citizen jurors, who will be tasked with weighing up changes to the ACT's compulsory third party insurance scheme.
Recruitment for the ACT's first citizen jury will begin early next month, with Canberrans from all walks of life to run the ruler over the territory's at-fault, common law compulsory third party insurance scheme.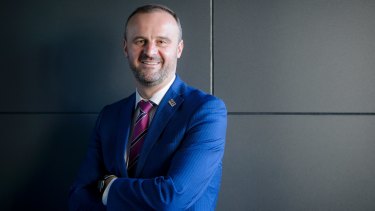 The cheapest insurer in the ACT's scheme is at least $100 more expensive than the Australian average, because its payouts are uncapped and are negotiated through lawyers and through the courts, Mr Barr said.
A bid to reduce car registration costs by reforming the insurance scheme failed to pass in the Legislative Assembly in 2012 and Mr Barr said he received frequent complaints about the high premiums, delayed payouts and scant coverage associated with the current scheme.
"We've tried reform in the past, it hasn't been passed through the parliament so what we're looking for is a circuit breaker to get some reform in this area that affects nearly 300,000 Canberra motorists," Mr Barr said.
The jury is part of a $2.8 million deliberative democracy pilot, $2.1 million of which will be spent running the juries on various issues.
Asked if it was appropriate to spend public money making decisions that would ordinarily be the remit of politicians, Mr Barr said it should be seen in the context of a scheme that's "in the hundreds of millions of dollars annually".
"It would put an end to the more tedious debates we have in this community about what people really think," Mr Barr said.
NSW, which has the highest premiums in Australia, has recently started moving towards a no-fault scheme where it is easier to get compensation quicker, but the amount is capped.
That approach leads to reduced premiums "because it removes the large claims and administration costs that go with that sort of negotiated settlement", Ms Doran said.
"Going through this [citizen jury] process for this topic allows us to explore the preferences of our community and how they want to balance the various trade-offs that happen in this space so the fundamental issue of eligibility, who is entitled to benefits and the different questions around how those benefits are determined and when they apply, how long they apply, can vary in the scheme design," Ms Doran said.
But the ACT Law Society and the ACT Bar Association accused the ACT government of "destroying the rights of injured motorists".
ACT Law Society president Sarah Avery and ACT Bar Association president Ken Archer also accused Mr Barr of "peddling misinformation and half-truths about the existing scheme".
"The referral of the CTP insurance scheme to a citizen's jury was a potential opportunity to improve the system," their statement said.
"Sadly, today's announcement by the Chief Minister shows that the government will not let an opportunity go by to influence a prospective jury as to how it should approach any suggested change to the CTP scheme and that it is not committed to fairness in the citizen's jury process."
How citizen juries work
Democracy Co co-chief executive Emma Lawson said a bespoke model of compulsory third party insurance would be developed for the ACT through a three-stage process.
The ACT government will mail out 6000 invitations to randomly selected households in early September, asking people to put their hands up for the citizen's jury.
Prospective jurors will have about a week to register their interest.
A minimum of 300 registrations is needed so the interested jurors can be stratified based on their age, gender, housing, and usual method of transport among other factors.
Jurors who most closely represent the ACT community will be picked.
"We don't want everyone in the room to be experts, we want to have a variety of understandings of the scheme but also different road user types," Ms Lawson said.
Jurors will be paid an honorarium of $450 for six days of work.
Their first meetings will take place over two weekends in October.
Jurors will compile a list of priorities for the new scheme. They won't be bound by confidentiality and will be encouraged to talk about the process with their family and friends.
Those priorities will be handed to a stakeholder group, comprised of disability advocates, legal professionals, health academics and government officials.
With the help of actuary modellers, the stakeholder group will develop several possible schemes based on the jury's priorities.
Those models will then go back to the jury to be scrutinised over a weekend in March.
The final model will be chosen by mid next year.
Mr Barr said the government would honour the decision the jury made, "given it represents the priorities of the community".
Outside of the jury and stakeholder group, there will be a broader chance for Canberrans to have their say, at: yoursay.act.gov.au/ctp
Katie Burgess is a reporter for the Canberra Times, covering ACT politics.