Concerns raised about congestion in Campbell from urban in-fill within the leafy, lakeside suburb
Campbell residents fear the leafy, lakeside suburb is under stress from overdevelopment and congestion, one of their greatest concerns being streets overloaded with traffic and parked vehicles that are potentially causing a life-threatening hazard.
Residents Alan Foskett and Luisa Capezio are speaking out about the changing face of Campbell, which Mr Foskett, a respected historian, says was the first neighbourhood-style planned suburb in Australia, the design putting a premium on residential amenity and a road system encouraging safe, low-volume traffic.
Mr Foskett and Ms Capezio say the suburb was originally planned to support 4000 to 5000 residents but now has more than 10,000.
The pair say they represent the views of many residents in believing Campbell is straining under twin urban in-fill pressures: large, multi-unit developments and a residential zoning code that allows single homes to be knocked down and replaced by up to four dwellings on each block, putting pressure on the road system.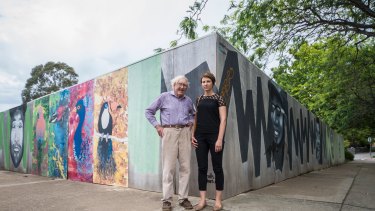 Mr Foskett and Ms Capezio say the addition of five major apartment blocks in the Campbell5 development on Constitution Avenue has lifted Campbell's ratio of single dwellings to apartments and townhouses to about 50:50.
Ms Capezio, a lifelong resident of Campbell, said that was a suitable compromise and the ratio should remain. They had no issue with developments that have been approved, such as Campbell5, but believed future developments needed greater scrutiny.
"We're not against development; we're not stopping development," she said.
"We want the whole city to grow, but it has to be strategic. We want to know that the suburb's core character can be preserved 20, 30 years into the future."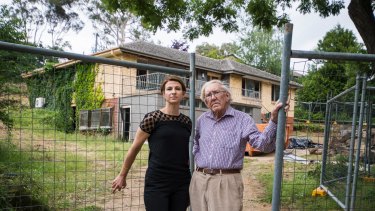 Among their concerns is a proposed development on the site of the former service station at the Campbell shops. Its developer is looking at two options for the site - residential apartments and commercial tenancies up to six storeys or residential townhouses up to four storeys.
Stewart Architecture, acting for the developer, this week held a public consultation session about proposals for the service station site, promising to take residents' views into account before it lodged a development application for the final proposal early next year.
A spokeswoman for the Environment, Planning and Sustainable Development Directorate said any proposal would be assessed when a development application was received.
The directorate confirmed the service station site was in the CZ4 local centre zone which had a "two-storey height limit" but additional storeys were permitted.
Extra storeys were allowed "if the buildings are consistent with the desired character of the block, and reasonable solar access to dwellings on adjoining residential blocks and their associated private open space is achieved. This is determined on a case by case basis".
Ms Capezio said the character of Campbell was also changing with single, detached homes being knocked over and up to four dwellings being built on the block, as was permissible in the RZ2 suburban core residential zone.
Ms Capezio said the planning code should be revised to allow only a maximum of two new dwellings on each suburban block.
She said streets such as Jacka​ Crescent had several developments pending which would see single homes demolished and replaced with multiple dwellings.
The roads were not wide enough to cope with the additional traffic and parked vehicles. There were even concerns about whether emergency vehicles could get into some streets in the suburb.
Ms Capezio said this was evident recently when there was a gas leak on one of the building sites and vehicles parked on both sides of the street made access by through traffic virtually impossible.
"I would hate to think what could have happened if there was a fire. If people could have got out and emergency vehicles in," she said.
"This is really an issue of public safety."
Ms Capezio said many older residents of Campbell were "distressed" about the changing nature of their suburb.
The spokeswoman for the directorate said traffic modelling was undertaken to assess the impact of redevelopment for multi-unit housing against the capacity of the road network.
"This is an important consideration in the approval process," she said.
"Development proposals are assessed against relevant regulations and individually on their merits with regard to potential impacts, including potential traffic impacts. Development applications are also referred to Transport Canberra and City Services for advice, and traffic reports are sometimes required from proponents, if a concern is identified, prior to making a decision. "
Megan Doherty is a reporter for The Canberra Times