Connecting Creative Canberra: The Inner South Arts Hub
Canberra has one of the most active, varied and inclusive arts scenes in the country. It is sustained not by commercial galleries, but by established arts organisations that have weathered decades in the capital. Despite this, there remains a pervasive belief in government and industry that Canberra is awaiting a cultural renaissance driven by urban development. But could it be that this very perception is the reason many people are missing out on what Canberra's artistic community has to offer?
Every Canberran has trodden the familiar battle-ground of anti-Canberra sentiment, emerging increasingly weary with each blow from a sceptical inter-stater. It seems there are weekly articles weighing Canberra's relative merits against its negative public perception, and listing more charges against it than are contained in an episode of Judge Judy. In my experience, the typical defence has invoked a consistent mantra: that Canberra is changing.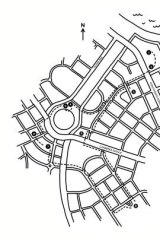 Canberra's focus on change and growth is not new. Well before the development of yo-pro paradise NewActon, 1960s advertisements aimed at potential public servants might have showed young twenty-somethings, well-coiffed and top-buttoned, enjoying the modern conveniences of an office job in the bush capital. In the brassy, clipped-vowelled English accent befitting an Australian presenter of that era, a voiceover would declare, "Canberra – a city on the move!"
The persuasive belief in impending change is one that has never left Canberra's cultural mythology. Its founding was a commitment to an almost never-ending project of beginnings: a perpetual machine of symbolic and practical governance, and a place where things are about to start. Even the current catch-cry of our city's marketing authority (because no city is complete without a branded campaign advertising the place to people who already live there) spells it out: "CBR: Confident, Bold, Ready".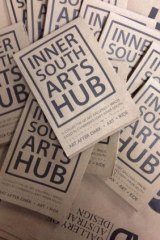 I'm not sure that this wholehearted commitment to newness truly serves us well. There tends to be such a focus on the Canberra to come that we sometimes founder when it comes to ways of appreciating the Canberra we have. Just last week, Chris Endrey lamented a lack of arts venues in Canberra. I would argue that we do not lack the spaces, but we do have a problem of audience education, an inadequate public transport system, and ineffective or non-existent public relations. While there are many exciting, if tentative, plans for the development of new locations for the arts (on the Kingston Foreshore for example), it's not the topology that most needs to change. I will contradict myself here and say that we do need something new, and that is an emphasis on exploring Canberra as a place already replete with a rich variety of creative thinkers, makers and destinations. A place with world-class contemporary art to see, buy and enjoy.
The creation of the Inner South Arts Hub might be the beginnings of that shift in thinking. It is by happy accident, not orchestrated planning, that the Inner South has emerged as a creative precinct. Rather than a "top-down" arts hub, this is an area which already plays host to many of our region's most established and active arts organisations and galleries: M16 Artspace, Canberra Glassworks, Gallery of Australian Design, Megalo Print Studio + Gallery, PhotoAccess, Artsound FM, Bilk and Canberra Contemporary Artspace's satellite gallery in Manuka. Between them, these organisations evidence decades of experience. Some, like Bilk, PhotoAccess, Megalo and M16 are in their second and third iterations, having seen the development of contemporary art practice stretching back to the 1970s and 1980s. Almost all of Canberra's leading artists, curators and arts managers can trace a lineage to one or more of these organisations.
These organisations are already significant in the arts landscape. On the Kingston Foreshore is the now iconic Glassworks, featuring internationally sought-after glass facilities, a gallery and retail space. Next door is the light-filled Megalo Print Studio + Gallery, the only complete studio of its kind in Australia, where beginners can learn the art of printmaking alongside master printmakers and globally recognised artists, such as Mike Parr. Also in Kingston is the recently relocated Gallery of Australian Design, showcasing work across the design spectrum, from architecture and landscape to fashion and craft, with links both to art and industry.
Across Telopea Park at the Manuka Arts Centre is PhotoAccess, Canberra's principal art space for making and exhibiting contemporary photo-based art, and the only publicly-accessible darkroom in the ACT, and Artsound FM, a community radio station dedicated to the arts. Head across the road to Manuka, and you will find Canberra Contemporary Artspace, hosting exhibitions by contemporary emerging artists, and Bilk, a gallery dedicated to contemporary jewellery, glass and metalwork run by celebrated artists Johannes Kuhnen, Helen Aitken-Kuhnen and their daughter Mio. M16 Artspace is at Griffith, and hosts three impressive gallery spaces (four including the miniature CHUTESPACE in the old book-returns chute from the building's previous life as the Griffith Library) as well as studio spaces and workshops.
The links between these organisations and galleries are not only geographical. Megalo and the Glassworks for example this year launched GLINT, a combined print and glass residency program. A broad focus on collaboration, rather than competition, is common to them all, as well as a practical emphasis, and a dedication to artists. There is also a genuinely felt role in educating the Canberra community. The distinct identities of each organisation have meant that a formal emphasis on the area as an arts precinct has been slow to emerge. Now, in an effort to leverage the benefits of their shared location and sensibilities, the Inner South organisations have launched a collective effort to band together as the Inner South Arts Hub.
The new collective aims to strengthen the efficacy of each organisation by increasing audience awareness. As Janice Falsone, Director of PhotoAccess explains, "everyone does have a niche and a place, and they are able to support each other in their differences, but there is a crossover of audience, and there is an opportunity to educate audiences as a broader whole". The idea is to open up the area as a whole to a wider reach. Megan Jackson, acting CEO/Artistic Director at Megalo, believes that this will increase recognition and relevance. "It's very important to build up a community that is supportive of what we do, and knows what we do. I think that's what the Inner South Arts Hub will provide. We are likeminded organisations in essence, so it's important to be able to educate people, businesses and audiences about what we do," she says.
The invitation to audiences is simple. Armed with a program and a free hand-printed map made at Megalo, available at any of the venues, the seven organisations are encouraging visitors to gallery-hop between locations, and explore the area over two events. On Friday 5th of December is "Art after Dark", where all organisations will be open for late-night viewings, drinks for members and potential members, as well as exhibition openings. The following day, the Inner South will host "Art and Ride", where people will be encouraged to make their own way cycling between venues to enjoy a day of participatory workshops and activities, demonstrations and artist talks, culminating in a closing party at the East Hotel.
Highlights of the two-day program include the opening of Bilk's annual Christmas show on the Friday evening, with a drag performance by Queen of the Nite. With many organisations focussed on making, visitors will have the opportunity to create their own works of art and hear from resident artists. The Glassworks will host a Christmas decoration-making workshop, while Megalo offers free screen-printing workshops, M16 Artspace a drawing event, and PhotoAccess presents artist talks and a darkroom demonstration. All of this attests to the "culture of making" that Jackson observes is distinctive about the Canberra art scene. With Christmas on the near horizon, there is also a discount of 10 per cent on sales at the Glassworks, and on-the-spot sales at Bilk. A special piece by a local artist might convince Canberra-sceptic inter-state relatives of the errors of their thinking. Locals can also become members of PhotoAccess and Megalo, and enrol in courses and workshops for 2015.
The Inner South Arts Hub is not only clever marketing, but amounts to a new way of valuing the artistic life of our city. Falsone notes that "a lot of the stuff that's happening over these two days is things that we do all the time, so it's really an invitation to audiences to come and check us out". M16's exhibitions and promotions coordinator EllenWignell explains that gallery-hopping in the Inner South is something many can build into their weekend plans into the future. She says "most of our galleries are small, and would not take all day to visit, however with a map in hand, people can visit many like-minded galleries within the same region". Changing the perception of the area from a place where separate organisations happen to be, to a precinct hosting an active, sustainable and accessible arts hub is one of the aims of the collective. The challenge, as Wignell sees it, is in communicating that perception to audiences. She says that "Canberra, up until recently has been getting a bad rap with audience engagement. There are so many fantastic cultural events that not many people used to attend. However I think that we are in a process of change. We just need to make sure that people know about it and spread the word".
Forming the collective is itself a step towards meaningful future developments. As Beverly Growden, General Manager of the Glassworks, says, "the opening up of communities is really important in terms of more talking between institutions, and more discussion. The critical mass is important, and as a combined force you are able to achieve so much more". She also wonders what creative cross-media arts practice might emerge as these various specialist organisations continue to forge closer links. There are also ideas to be sparked with broader audiences. GAD's Director, Bea Brickhill, sees her primary role as emerging from and responding to the needs of the community. GAD's vision is "not only to put on exhibitions, but also to encourage discussion about design. I'm interested in getting people in here, looking at it, thinking about it, but also having conversations," she says.
The creation of the Inner South Arts Hub is an acknowledgement of an existing artistic community and an invitation to wider audiences to take a map, jump on a bike, explore the area and join the conversation. The change here does not involve scaffolding and the sound of street-works, but a shift in habits on the part of both audiences and institutions. Canberra may be a city on the move, but it's up to us, quite literally, to do the moving.
The Inner South Arts Hub launches with Art After Dark on Friday 5th December at all venues from 5-8pm, and continues with Art & Ride on Saturday 6th December from 9.30-5pm.
Download a full program at InnerSouthArtsHub.tumblr.com
Claire Capel-Stanley works as Program Manager at PhotoAccess