Canberrans will be able to cash in on their empty drink containers from mid-year, but the refunds on offer could be offset by a rise in the cost of drinks.
The ACT Government on Monday announced that its container deposit scheme would begin on June 30, with people who return empty, eligible drink containers to a designated collection point to receive a 10-cent refund per unit.
However, with the scheme industry-funded, the government is warning that the price of drinks may increase slightly as suppliers cover the cost of participating in the scheme.
A regulatory impact statement released in December by Transport Canberra and City Services estimated this could cost the average consumer as much as 22 cents more each week.
The report predicted the total cost to Canberrans would be $49 million over 20 years, but it also said environmental benefits over the same period, including the recycling of an extra 515 million drink containers, would likely be worth $71 million to the territory.
"The net impact on the beverage manufacturing industry is estimated to be zero, as all costs will be passed on to the consumer," the report says.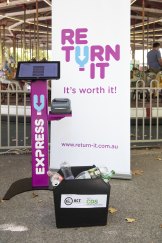 The government is considering price monitoring measures as part of the scheme, and will watch prices before and after it begins on June 30.
ACT Minister for Transport and City Services Meegan Fitzharris said legislation would be introduced this week, giving drink manufacturers up to two years to introduce ACT-specific refund marking on their containers.
She said the scheme would make manufacturers take greater responsibility for container packaging after it was sold, helping reduce the amount of litter.
People would also have the chance to donate their refunds to charity, with social enterprise organisations across Canberra coming on board as collection points.
"We want our container deposit scheme to be a socially inclusive and accessible scheme that enables all Canberrans to participate," Ms Fitzharris said.
---
Ms Fitzharris said Exchange for Change (ACT) would coordinate the scheme under government supervision, with Re.Turn-It signing on as network operator.
Greens crossbencher Caroline Le Couter said she was particularly pleased that the ACT had taken the time to learn from Return and Earn, the New South Wales container deposit scheme that was widely criticised after its launch last year.
While Return and Earn would not accept crushed cans, Ms Le Couter said the ACT scheme wouldn't have the same limitations.
"I'm particularly pleased as the grandmother of a young New South Wales boy, who was very disappointed that he wasn't able to get a refund for [some cans] because they were crushed," she said.
Information on the scheme, including the rollout of collection points, is available on the ACT container deposit scheme website.
Blake Foden is a reporter at the Sunday Canberra Times. He has worked as a journalist in Australia, New Zealand and the UK.