Costco drops petrol below $1 a litre in Canberra
Canberra's newest petrol war has taken prices below $1 a litre for the first time in years - but only at two service stations.
Early on Tuesday afternoon, Costco dropped the price of unleaded petrol for its members at Majura Park to 99.7c a litre - 30 cents cheaper than last week's average for Canberra. It prompted Woolworths to go one step further, offering unleaded fuel for 98.7 cents for drivers with a shopping voucher.
By 5.30pm on Tuesday, Costco's price had dropped to 97.7 cents.
But the price break was shortlived, by Wednesday morning prices were back above the $1 mark with Costco selling petrol for 104.7 cents per litre at 7.15am and Woolworths dropping its price from 108.7 cents per litre at 7.35am to match its competitor by 8:30am.
The average price for unleaded petrol in Canberra was 124.0 cents per litre as of 9am Wednesday.
Costco country manager Patrick Noone said their prices on Tuesday were the lowest offer to date and followed decreases in wholesale prices. He said customers were quite happy.
"It engenders loyalty and we are all about our membership, taking care of our members and giving them the best price," Mr Noone said.
Only Costco members can buy fuel at the Costco bowsers. Non-members must go to Costco's warehouse next door and pay $60 if they want to sign up.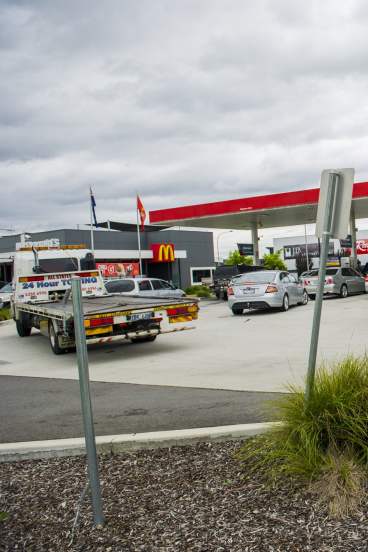 Mr Noone said previous discounts had not caused a spike in membership.
"People just expect us to have the right price out there, and they look to come back again, they look to get trust in us," he said.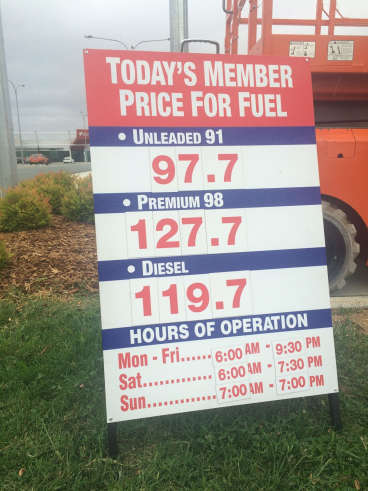 "It seems like the world supply is in good shape and it seems the price is dropping. I think, stay tuned, but there is more upside for it to drop down than not."
He could not say how long the price would last, on Tuesday.
According to the latest figures from the Australian Institute of Petroleum, the average price of unleaded fuel in Canberra was 130.6 cents a litre last week. This was a 3.8 cent drop on the previous week, but still almost 20 cents above the Sydney average of 112.3 cents a litre and the Melbourne average of 112.1 cents a litre.
CommSec chief economist Craig James said petrol prices were at their cheapest in more than four years, thanks to falling wholesale prices. However, he warned gross retail margins appeared unsustainably low in Sydney and Melbourne.
The latest price drop comes after drivers flocked to the Majura Park store over the weekend, when prices dropped to $1.06, prompting nearby Woolworths to match for shopping voucher holders.
NRMA spokesman Peter Khoury said then that two powerful ingredients were at play in Canberra, exerting downward pressure on average petrol prices.
"The prices in Canberra have always been higher than Sydney but the gap was huge," he said.
"Two things, grassroots pressure and competition, they are the things are going to ensure we are paying a fairer price for petrol."
Costco's petrol station began a price war as soon as it opened in December.
Back then, it was selling standard unleaded petrol and diesel for 129.7 cents per litre and premium 98 for 139.7 cents.
The NRMA said at the time this was lowest price in Canberra for five years.
John Thistleton is a reporter for The Canberra Times.