Cotter's 30,000t shortfall
Actew Corporation is short of almost 30,000t in crushed raw rock needed to finish the expanded Cotter Dam project.
But the dam's project manager says creating projects on such a large scale is ''not an exact science'' and a lot of the surveying work has been ''interpolation''.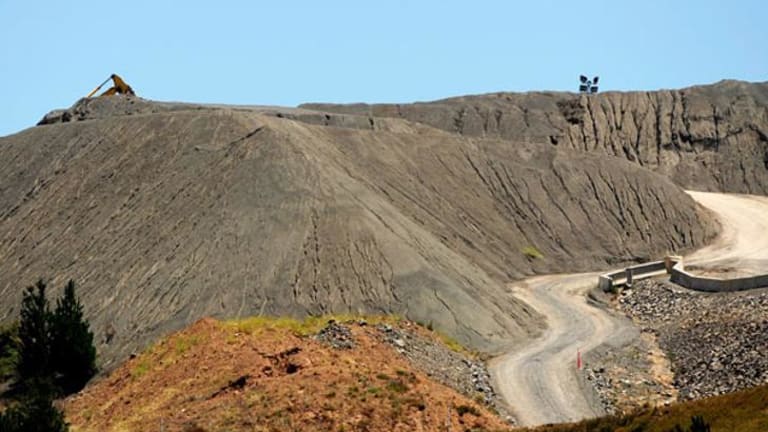 The troubled project, which will increase the Cotter Reservoir's capacity 20-fold, from four gigalitres to about 78 gigalitres, has been hit with delays and safety fears.
Actew Corporation project manager Ray Hezkial told The Canberra Times yesterday rain alone had slowed the project by up to five months, delays that were being compacted by the discovery of a fault line in one side of the dam wall and sections of the job being shut down for safety concerns.
Now The Canberra Times can reveal the dam's operators had carefully estimated how much construction material the project needed, and allowed for ''no more''.
The discovery of a large geological fault at the base of the new dam wall, which took out $10million of the project's contingency budget, set the project back by several months. It also meant construction workers had to pour about 30,000t of concrete to plug the hole.
''When we started our process we had to make assumptions about how much rock we'd have to excavate,'' Mr Hezkial said.
''We got down to the bottom [of the dam site] and we thought we were going pretty well, and we came across a major fault along the left-hand abutment and we had to go about 10m-15m deeper.''
By this stage about 920,000t had been excavated ? precisely the amount planned for.
An Actew spokeswoman said rainfall had degraded stockpiles of crushed rock and this, combined with the need to do extra foundation excavation, had led to the shortfall of an estimated 18,400t of rock.
''This is an operational issue that is relatively common in projects of this size, which aim to produce only the required amount of aggregate required so as to avoid waste,'' she said. ''This is not a significant issue and has no immediate impact on construction.''
However, Mr Hezkial said it could be more, with almost 30,000t of extra rock needed to repair the fault line alone. He said rain had also delayed work, with more than 200mm falling in November.
''It's definitely the right place for a dam,'' he quipped.
Mr Hezkial estimated that four to five days of construction work were lost for every one day of rain.
Actew is currently undertaking a review of the progress of the dam, which was due to be complete last month, but Mr Hezkial said his ''gut feel'' was rain alone had set the project back by four to five months.
But safety concerns have also held the project up, with WorkSafe issuing a string of improvement notices to the site's organisers.
WorkSafety Commissioner Mark McCabe said yesterday the authority was investigating a ''near miss'' incident at the site before Christmas, during which an apparently unsecured conveyor belt was being moved from one end of the project to another.
Construction, Forestry, Mining and Energy Union ACT secretary Dean Hall said Actew ''really are a water resource controller''.
''They're not dam builders. They have been massively let down by the controller they're engaging.''
This reporter is on Twitter: @_biancah
Morning & Afternoon Newsletter
Delivered Mon–Fri.