Crowdfunding call for refugee-inspired video game
Leaders in waiting and royalty are not unheard of in Canberra, but a team of video game developers based in a Holder home could soon be sharing their own game of political and military conquest with the nation.
Three-man team Whale Hammer Games has had early success in its crowdfunding campaign, with $29,000 pledged within three weeks for their turn-based tactics game set in a world fallen into a medieval dark age.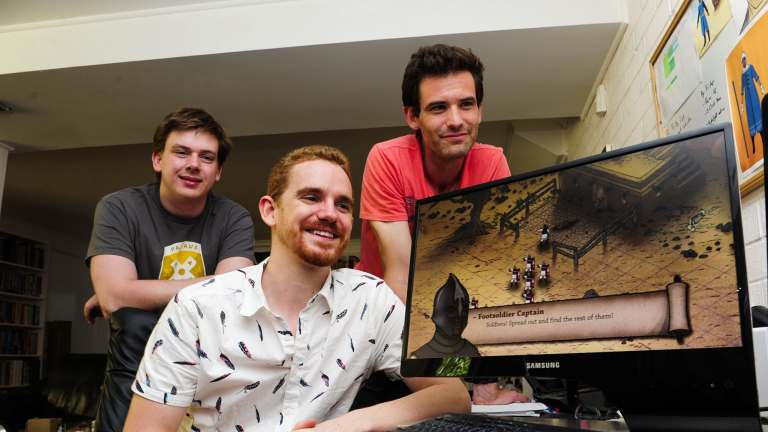 Writer and producer Peter Castle, 24, said Tahira - Echoes of the Astral Empire revolved around a reluctant princess taking control of her scattered kingdom, and originated from experiences from his own life, including travels to Syria before the civil war.
"I've tried to create something which ... helps people to identify with what that refugee experience is like, so they can see it's just normal people," he said.
"And with Tahira, the princess character, exploring someone in a leadership position dealing with an anxiety disorder, which is drawn from our own personal lives," he said.
Mr Castle said he and programmer and designer Tom Cox, 24, and artist Peter Simpson, 35, worked on the game five days a week while juggling other jobs.
He said reaching their funding target of $68,000 within a fortnight would be a huge relief.
"What it would mean for us is spending our time focusing on the game," Mr Castle said.
"It would be a creative endorsement for the ideas we have."
International Game Developers Association Canberra branch chairman Matt Stimson said Whale Hammer's crowdfunding was already the largest by any Canberra game developer he was aware of and would encourage other small studios.
"It's an ambitious amount to raise for an Aussie gaming studio," he said.
"If they can pull this off it's fantastic - I believe they can, the animation is good.
"The lessons learnt running that campaign will get disseminated through the industry."
Mr Castle said the game, a mix of combat and civilian strategy, was due to be released in January.
Reporter at The Canberra Times