'Cycling Without Age' aims to break down social isolation in elderly Canberrans
Entrepreneurs from the world's number one cycling country have brought their brainchild to Canberra in an effort to get the elderly socialising and back on their bikes.
Cycling Without Age, which began in Denmark, is a program where a 'pilot' peddles a trishaw (also known as a rickshaw or bike taxi) while up to two people sit back and enjoy a ride around the city.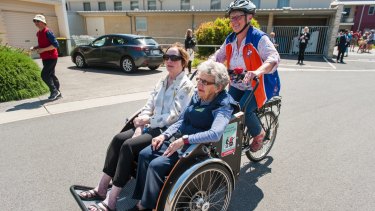 Residents at the IRT Kangara Waters Lifestyle Community in Belconnen became the first in the country to try the trishaws this week at the program's Australia launch.
Co-founder Dorthe Pederson said the idea started when a generous man began offering his neighbours at a Copenhagen nursing home rides on his trishaw, in an attempt to break down social isolation and loneliness.
Since then, the initiative has spread to 27 countries.
"It's good for physical health as there is a little bit of a climb getting in and out, and there is also a mutual social benefit between the pilot and the elderly, " Ms Pederson said.
"But there is also a mental health approach that makes you more inclined to take care of your physical health, because just getting out in the fresh air could give you motivation to go and do your physiotherapy or other activities."
Multiple studies have shows social isolation is a major risk factor for functional difficulties in older people.
The program was funded through a $20,000 Community Grant from IRT Foundation, in partnership wit the ACT government and Pedal Power ACT.
While only two trishaws have imported from Denmark to the Belconnen nursing home, Ms Pederson said she was looking to expand it throughout Canberra.
But IRT Foundation manager Toby Dawson said the city needed more age-friendly paths for cycling and walking and more support for active ageing in general for the movement to really take off.
ACT Transport Minister Meegan Fitzharris said the ACT government would look at making Canberra's paths more accessible to trishaws, building on its election pledge to spend big on cycle infrastructure.
"We just have to make sure we get the infrastructure right so that we can accommodate all types of cycling," she said.
"We have started this by thinking about carriages on bikes for individuals, although these are a little bit wider."
She suggested Canberra could follow in the footsteps of some European cities where the trishaws were used more widely by families with young children and large shopping loads.
In September, Labor announced plans for a $4.7 million Belconnen bikeway, with lanes of three to four metres wide.
To become a pilot for Cycling Without Age and be trained in handling the electric-assist trishaws, contact Pedal Power ACT on vp1@pedalpower.org.au
Clare Sibthorpe is a reporter for The Canberra Times