Dad, Daddy, Sybilla and Angus
This gorgeous photograph of former Canberran Tom Snow (right) with his partner Brooke Horne, and their children, twins Angus and Sybilla - as well as dog Salty - is a semi-finalist in the lucrative Moran Contemporary Photographic Prize.
The winner of the $100,000 prize will be announced on July 24. The photo of the Snow-Horne clan was taken by Isabella Moore, who called it Dad, Daddy, Sybilla and Angus.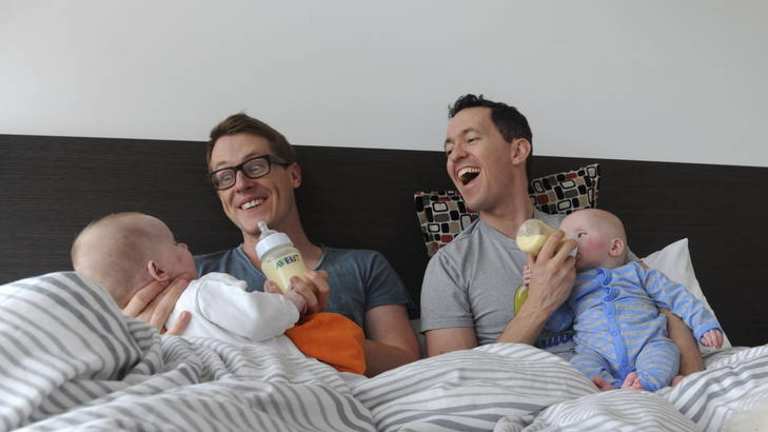 Tom is the son of Ginette and Terry Snow, owner of the Canberra Airport.
The photograph was taken in October 2011 at Tom and Brooke's Balmain home when the twins were five-months-old.
''Our morning ritual before work is getting the kids up and feeding them. The kids had just learnt to laugh at this stage in their life, so like any parents we both encourage this fun and laughter, and get a lot of amusement out of it ourselves,'' Tom told us.
The twins are now 14 months old, born through surrogacy in the United States. Tom is thrilled the photograph will reach a wider audience. ''It is great to be part of such a prestigious prize, particularly during a time when the community is beginning to better understand gay and lesbian families through the marriage equality debate,'' he said.
''This is a great opportunity for people to see that we are just like any other family - with the same hopes, dreams and aspirations for our kids as any other good parent.''
(Darren Clark, see story at left, is also a semi-finalist in the Moran Contemporary Photographic Prize. Good luck to both snappers!)