David Eastman inquiry: police in court bid over report's publication
The Australian Federal Police have lost a last gasp bid to prevent the imminent publication of at least some parts of the report into the Eastman Inquiry.
Inquiry head, Acting Justice Brian Martin, delivered his findings in the inquiry to the registrar of the ACT Supreme Court on Thursday. The inquiry examined David Eastman's conviction for the murder of assistant Australian Federal Police commissioner Colin Winchester in 1989.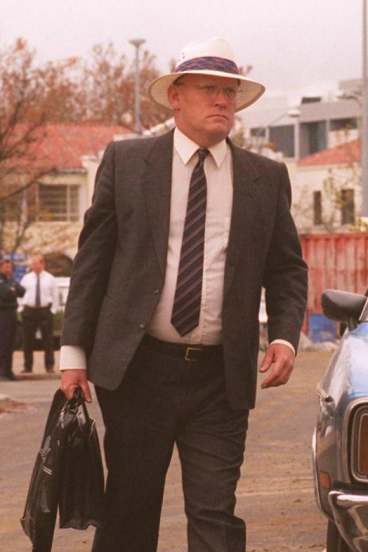 The court will release the report on Friday night, after Chief Justice Helen Murrell rejected an application from the AFP.
Police argued people named in the report could have their reputations tarnished and they should have an opportunity to make submissions to the court.
They also said they needed time to consider whether to seek a non-publication order on the report "in the public interest".
The report will published on Friday night. There is no application from Eastman to be released from prison based on the report.
The report is before the full court for consideration. It will decide whether to confirm or quash the conviction.
Even if the court decides to confirm the conviction, it could choose to pardon Eastman and release him from custody.
An order to overturn the guilty verdict could result in a retrial. It could also effectively reaffirm the conviction.
Acting Justice Brian Martin delivered his findings in the inquiry to the registrar of the Supreme Court on Thursday.
Court officials confirmed they had received the report, but would not disclose its contents.
"The report and documents accompanying the report are now in the custody and control of the Supreme Court," the court said.
"No comment will be made about the contents of the report."
Eastman has spent almost 19 years behind bars for the assassination of assistant commissioner Winchester, who was killed in Deakin in January 1989.
He was convicted by a jury in 1995 of the murder, on a circumstantial case that included claims gunshot residue from the murder scene matched samples found in Eastman's car.
But he has always maintained his innocence, unleashing waves of litigation in a bid to clear his name.
It comes a week after the full bench of the ACT Supreme Court threw out an attempt by the Director of Public Prosecutions to halt the Eastman inquiry.
The DPP had applied for judicial review of two decisions that had helped create and shape the inquiry.
The DPP took exception to an order creating the inquiry, made in September 2012, and a second decision by Acting Justice Martin not to limit its scope.
The challenge came before the full court about 14 months after the 2012 decision and months after the inquiry had heard evidence that raised "serious issues" with Eastman's conviction.
The court, led by Chief Justice Murrell, used its discretion to dismiss the DPP's challenge last week, despite finding errors with the decisions.