Defence Force's Mark Binskin on a long ride to raise money, awareness for prostate cancer
Air Marshal Mark Binskin says too many men die needlessly from prostate cancer. The incoming defence chief will continue motor bik riding to raise awareness of second deadliest cancer for men
Motorbike enthusiast, fighter pilot and incoming Chief of the Australian Defence Force, Mark Binskin, no longer sees himself as bullet proof.
"Very quickly as you mature, you understand where you sit on the food chain on the road, and you have to take it quite easy as you ride and understand the environment you are in,'' Air Marshal Binskin said.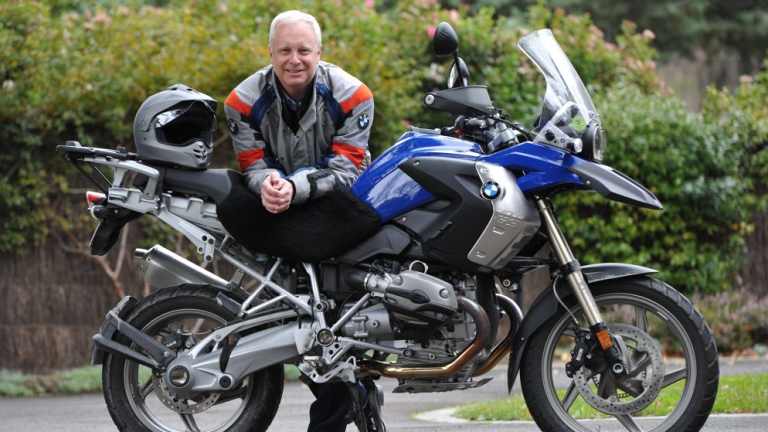 "As in flying, it can be very unforgiving."
Long before he opened the throttle on his BMW 1200 motorbike, Air Marshal Binskin learnt about the pains associated with riding.
He grew up in Campbelltown and fell off his first motorbike, a Gemini 50, when he was 12 years old. He progressed to a Yamaha 80 and fell off that one too, losing some skin along the way.
For the past five years he has put early spills, and 3500 hours of flying Mirage and F/A-18 Hornets, behind him on the Long Ride across the outback to raise money and awareness for the Prostate Cancer Foundation of Australia.
On the road with his wife, Gitte, he likes being just another rider. The former flyer, who becomes Chief of the Defence Force next week for a four-year stint, will take in the scenery again in September, with hundreds of other riders.
One nagging thought unites them. Every year too many Australian men are dying needlessly of prostate cancer.
On the last ride Defence Force riders raised $85,000 for prostate cancer research and awareness.
If the disease is detected early enough, 92 per cent to 95 per cent of men survive, yet 3300 men continue to die annually because they don't act sooner.
"It's not a cancer that should be killing as many men as it is," the 54-year-old Vice-Chief of the Defence Force said.
Riders stay overnight in rural communities and inevitably conversations with the locals turn to the ride's message about regular medical examinations.
"If you have couples there, where there's a husband and a wife, normally the wife jabs the husband in the ribs and says: 'I told you you should have gone and got checked. I told you you should have talked about this'."
Air Marshal Binskin aid he would have Bluetooth on the ride so he could still be contacted. "I am Bluetoothed in so if the minister needs to, he can call me at any time."
Air Marshal Binskin will confine this year's ride to two days as the Defence Force continues its cultural shift, which began with several reviews in 2011, including employing more women.
He says he had his own cultural shift earlier, giving up motocross racing.
"When I joined the services they frowned on that a little bit, so I got out of motorbikes pretty quickly," he said. "It was only later when my youngest son started riding a little bit we got back into the bikes.''
A tight corner for the Harvard Business School graduate in his new role as chief will be working with fewer civilian staff, with the 2014 budget proposing reducing numbers by almost 2300.
He says reductions are possible through reforms to the Defence Force's business practices and wider application of shared services.
"The reforms are being implemented to ensure there are no reductions in critical service standards or capability – especially to Defence members deployed on operations,'' he said.