Development to repurpose former Department of Social Services buildings underway
Construction of a $200 million aged care facility is underway in the buildings that were once home to the Department of Social Services.
The approximately 60,703 square metre site, Block 3, Section 14, is off Athllon Drive, Greenway and includes five sets of two buildings.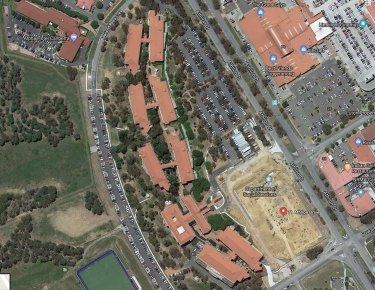 The development of the 10 buildings, a joint venture between the building owner and Love Decency Kindness Healthcare, will "repurpose" the office space creating up to 380 serviced retirement apartments. The company will also operate the facility.
Demolition of the internal spaces started in May.
Apartments, estimated to house 450 residents, will include 16 secure dementia rooms and up to 100 high care units.
Love Decency Kindness Healthcare chief executive Byron Cannon said the apartments would range from 40 square-metre one-bedroom units to 85-95 square metre two-bedroom units.
"Each apartment will have a kitchen, laundry facilities, ensuite, balcony/courtyard, smart TV, lounge and dining areas, with a focus on each apartment being our residents' home," Mr Cannon said.
"We will be delivering vibrant communities, where our residents will be active and engaged, supported by state of the art technology to optimise resident outcomes, providing a genuine continuum of care from the moment our residents move in."
Mr Cannon said there would be an "abundance of community amenities" including a corner store, a bar, barber shop and hair and beauty salon.
The development will also have a 130-seat private theatre, library, gymnasium, men's shed, chapel and outdoor barbecue and pizza oven al fresco areas. It is expected to have more than 300 car parking spaces.
The first residents are expected to move in mid-2019.
The Department of Social Services moved to its new $172 million office, in the same block as its former home, in September last year.
Han Nguyen reports on property for The Canberra Times. She joined the Times in 2017 after working as a breaking news reporter at The Sydney Morning Herald.