Eastman's blue Mazda, flat vacuumed for trace evidence
A police officer who went to lengthy efforts to collect trace evidence from David Eastman's flat and car found nothing significant to the investigation into the murder of Colin Winchester, a jury heard on Tuesday.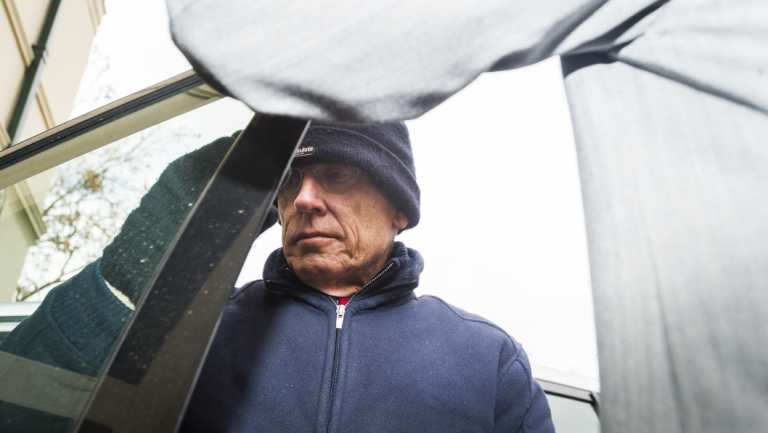 Peter Nelipa was an acting superintendent in the federal police's forensics division when the police chief was shot dead in his car in Deakin.
Mr Eastman, 72, is on trial accused of the January 10, 1989, murder. He has pleaded not guilty.
The court heard that in the days after Mr Winchester's death police searched Mr Eastman's flat and they also went through his rubbish.
Among other items, police examined his razor, vacuum cleaner and carpet sweeper for evidence.
Nothing of relevance was found, Mr Nelipa told the court.
Mr Nelipa was looking in particular for trace evidence such as fibres, hair and gunshot residue and particles.
He told the ACT Supreme Court on Tuesday that he had Mr Eastman's car seized and towed to the AFP's water police site in Yarralumla, because the site was not associated with firearms.
They had swept the room's walls and floors beforehand, changed the locks and put an adhesive mat on the floor to collect dust from people's shoes.
Mr Nelipa said the efforts were to prevent the scene from being contaminated.
He vacuumed the car in sections, washing the vacuum cleaner and changing the filter with each section.
The samples from each section were collected into separate boxes. One by one the boxes were put under a microscope where Mr Nelipa and his colleagues scratched around for anything of interest.
The officers found some 25 gunshot particles from the boot of Mr Eastman's car. The particles were small, green, translucent and flattened balls that were partially burnt.
Mr Nelipa said the particles found in Mr Eastman's boot were consistent to those found on the driveway next to Mr Winchester's Ford Falcon.
But at the time of Mr Winchester's death, the trial heard, there were 36 types of ammunition produced in Australia that would produce particles of a similar nature.
It was also not possible to say when particles would have been deposited, the court heard.
Mr Nelipa examined the material again in 1992 and found from the driver's side seat another particle, smaller and darker than the others.
There was no blood found in the car, the court heard.
An expert from the CSIRO examined botanical evidence from Mr Eastman's car and the scene of the crime but the study returned inconclusive results, the witness said.
The car contained a fair amount of debris and soil, Mr Nelipa said, except for the front driver's seat.
The driver's seat had no botanical matter, and only a small amount of matter when vacuumed.
But Mr Nelipa could not draw any conclusions from that information.
The trial continues.
Alexandra Back is a reporter with The Canberra Times