Eerie Ghost Stories at the Playhouse, Canberra Theatre Centre
Ghost Stories. By Jeremy Dyson and Andy Nyman. Directed by Peter J. Snee. Co-directed by Jennifer Sarah Dean. Prince Moon Productions and the Canberra Theatre Centre. Canberra Theatre. Until August 21. Bookings: canberratheattrecentre.com.au or 6275 2700.
The disclaimer has the ring of foreboding expectation. Children under 13, pregnant women and those with a nervous disposition are advised to avoid Prince Moon Productions' performance of Jeremy Dyson and Andrew Nyman's Ghost Stories. To add terror to tension, audiences are warned that if they dare to leave the theatre, a lockout will prevent their return.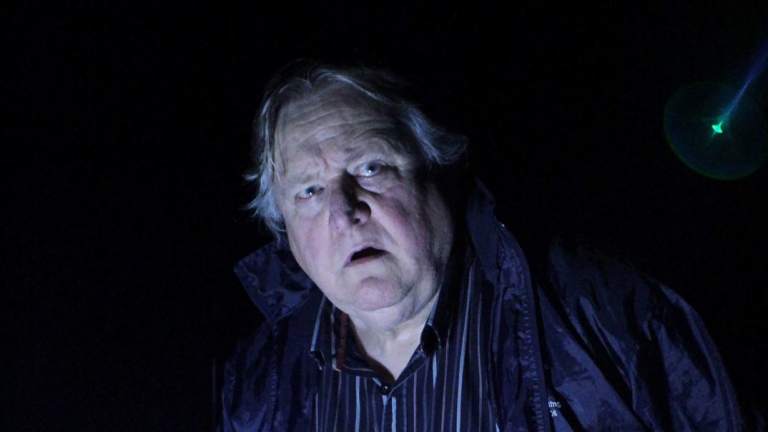 It all begins innocently enough against a smoky-grey Safety Curtain. Dr Philip Goodman (Stuart Brennan) is conducting a lecture on the para-psychological with a visual introduction to the intriguing history and example of ghost stories. Ruse or racket, fact or fiction, trick or testimony, Goodman seeks to debunk and expose the fear that fantasises and fabricates the phenomenon of the ghost.
Three case studies serve to test his premise. Night watchman Tony Matthews (Richard Moss) recounts the terrifying tale of the mannequin doll that cries "Daddy!" and Simon Rifkind (Matthew Connell) confronts the fearful monster of consequence. Finally, Mike Priddle (Brian Markey) relates the torment of encounter with the poltergeist. Even more heart-thumping in its perturbation is the ghoulish appearance of Desi Callahan (Johnathan Peck) in a climactic conclusion to the lectures that cannot be revealed. See it for yourself if you dare.
And dare you might. Goodman's opening lecture offers an interesting insight into the nature of the paranormal, the supernatural and the psychological phenomenon of popular belief in ghosts, as admitted to by a large number of the audience present at the opening performance. However, the convention dulls the drama, delaying the arrival of the supernatural tales and the embroiling of the spectator in the spectre of fear and the manifestation of guilt. Each character's introductory exposition appears unnecessarily drawn out, especially in the case of Tony Matthews' night watch sighting. The re-enactments with an abundance of sudden loud noises, shadowy settings and puzzling appearances are effectively lit to heighten suspense and surprise. Ghost Stories has been impeccably produced to maximise the impact of the inexplicable and the fearful. Lighting designer Christopher Page, sound designer Lana Kristensen and illusion designer Nathan Alexander conjure a world of mysterious phenomena.
Ghost Stories is unlikely to thrill like Hitchcock, horrify like Tarantino or mystify like Ghost Hunters. It is more likely to inform, surprise and entertain. You are unlikely to leave the theatre quivering with fear, shaking with shock or trembling in terror. Co-directors Peter J. Snee and Jennifer Sarah Dean have directed a well-cast and excellently produced professional show that is certain to entertain, though less certain to validate its disclaimer.